Minister of Finance Dinh Tien Dung authorized by the Prime Minister presented the revised law on export and import tariffs at the 10th session of the 13th National Assembly this morning.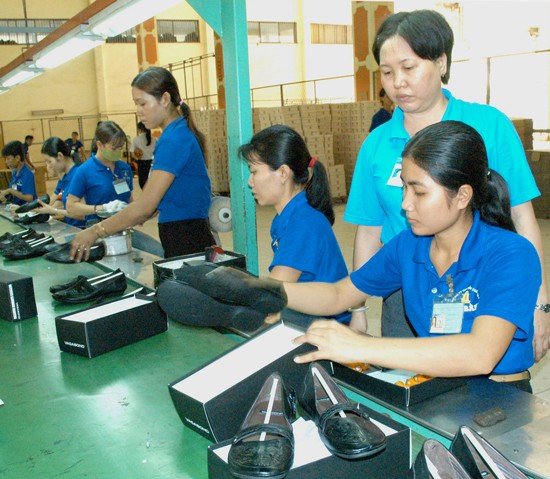 Vietnam will repair export import law to suit international integration demand (Photo: SGGP)
The revised draft law comprises 22 Clauses grouping five chapters including common regulations; tax calculation basis and time, and tariff; anti-dumping, anti-subsidy and safeguard duties; tax exemption and reduction, and refund; and execution clauses.
According to the Finance Minister, one of the main revised contents of the draft law is encouragement and protection of domestic production and trading in accordance with development orientations of the Party and the State and Vietnam's international commitments.
The draft law also upgrades and supplements some regulations on anti-dumping, anti-subsidy and safeguard taxes to protect local production from negative impacts of integration.
Chapter 3 adds provisions on conditions, principles, jurisdiction and time limit to apply the above duties on the basis of inheriting regulations in three current ordinances.
Clause 15 says that in case Vietnam's benefits in international treaties are compromised, the Government will report the National Assembly to apply other suitable safeguard tax measures. This aims to ensure a sufficiently legal basis to apply possibly new tax measures to handle arising cases.
Promulgation of tariff and duty rates will come within the jurisdiction of the NA Standing Committee who will issue minimum tax rates for each group of dutiable commodities in the export tariff, mainly natural resources and minerals, and empower the Prime Minister to decide specific rates, according to Clause 10.
 
After verifying the draft law, chairman of the NA Finance and Budget Committee Phung Quoc Hien said that the revision of export import tariff law aims to meet requirements of internationally economic integration and suit free trade agreements that Vietnam have signed. It is expected that trade liberalization will abolish 97-98 tariff lines within the next decade.
 
The committee proposed the Government to estimate impacts from revising the law on the state budget's revenue and ensure that it will not affect national financial security.
 
Most members of the Standing Committee agreed with regulations at the Clause 10. However, they proposed the Government to clarify which body will decide the remaining lines of taxes on import goods that Vietnam have not signed in FTAs.
Besides, they suggested supplementation of the NA jurisdiction in approving duty agreements negotiated and signed by the Government.
Some members proposed that the draft law should make clear the list of commodities and the tariff of export and import items that Vietnam has yet to sign in agreements with other nations and international organizations.
The Nation Assembly should assign the Standing Committee to decide some types of goods in need of regular tariff changes in accordance with economic management requirement.