Relevant agencies from the southern province of Kien Giang have reported that around 600 Vietnamese people go to Cambodia every day to gamble via the Ha Tien international border gate of the province.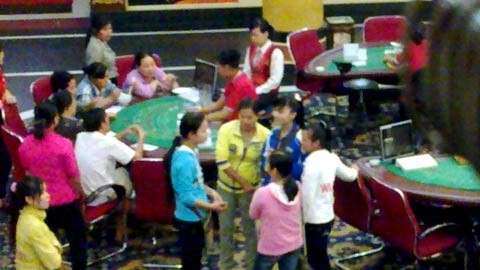 The file photo shows Vietnamese gamblers at a casino in neighboring Cambodia.
The agencies claimed that most usually go to casinos and cock-fight grounds near Prey Chark border gate in Kampot Province in Cambodia. Most of the 500 or so are residents of Kien Giang.
 
The situation has become alarming as 40 gamblers have gone bankrupt or sold their property to cover gambling losses. Some have even committed suicide because they were so deep in debt after gambling all assets of their families.
 
Many gamblers have turned back to Vietnam, to commit robbery after betting away all their money in Cambodia.
 
There are 5 casinos with cock-fight grounds at Prey Chark border gate. The Ha Tien Vegas Casino is the largest with a 9-floor hotel.
 
A border gate in Long An Province has noticed nearly 500 people going to Cambodian casinos, most being 30-45 year old women.
 
There are 5-6 casinos and 2-7 cock-fight grounds in the Cambodian area bordering the Southwest border post of Vietnam.