More than 1,300 students from 97 traditional martial arts groups in Vietnam and 27 countries around the world converged at the Quy Nhon Stadium in the central province of Binh Dinh to participate in the opening ceremony of the 4th International Festival of Traditional Vietnamese Martial Arts on August 1.
Among those attending the opening ceremony were, Le Kha Phieu, former Party General Secretary; Nguyen Thien Nhan, Deputy Prime Minister; Huynh Ngoc Son, Vice Chairman of the National Assembly; and Le Huu Loc, chairman of the People's Committee of Binh Dinh Province.
Earlier, Party leaders and martial arts groups offered flowers and burnt incense at the statue of Emperor Quang Trung at Tay Son Tam Kiet Temple and Quang Trung Museum in Phu Phong Town in Tay Son District in Binh Dinh Province.
Streets decorated with colorful flags welcomed the martial artists and their coaches from 27 countries and territories across the world.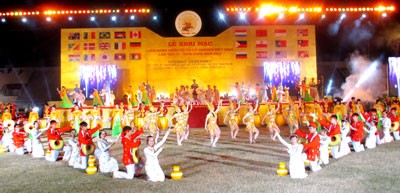 A show in the festival recreating the military campaign by Tay Son brothers to successfully defeat the Qing invaders (Photo: Nguyen Khoi SGGP)
Tambi Matt, a Vietnamese of Indian origin and chief coach of Than Long Thien Dai Ho branch in France, said that he had attended all previous martial arts festivals in Binh Dinh Province.
This time he has come back with his 13-year-old son, also a student of Than Long Thien Dai Ho, who won the first prize for his performance of empty hands and weapons in France, along with 10 other students.
"Although I have been far away from my motherland for 35 years, I still speak Vietnamese fluently because my father wanted me to keep my Vietnamese culture. In France, though we have to speak French when working, when we go home all family members speak Vietnamese. As a head master of a Vietnamese martial arts school, I want to save the Vietnamese culture through traditional martial arts and promote it to foreigners, teaching them how to learn Vietnamese martial arts and also Vietnamese culture. I often tell my French students, learning martial arts is not for fighting but exercising as we study the cultural essence and wise behavior," said coach Tambi Matt.

In his 30-years of teaching martial arts in the West, Grand Master Le Bich Diep, now living in Northampton in England, was head of the Binh Thai Dao martial arts school, which was established in the early 20th century in the land of An Thai (now part of Nhon Phuc Commune, An Nhon District, Binh Dinh Province), teaching a combination of traditional martial arts of Binh Dinh and Shaolin (Chinese).
Settled in England since 1984, Grand Master Le Bich Diep opened a school to teach Kung Fu to English students and overseas Vietnamese in the United Kingdom. At present he has more than 2,000 students following the Binh Thai Dao techniques.
"Since 2007, I began spreading Binh Thai Dao techniques all over the world to promote traditional martial arts of my motherland Vietnam," Diep expressed.
The opening ceremony of the 4th International Festival of Traditional Vietnamese Martial Arts was broadcast live on Radio and Television channels VTV4 and HTV7.
In the opening show, spectators watched the Tay Son battle and the heroic martial displaying the true traditional martial arts of Binh Dinh Province.