The Anti-Smuggling Investigation Department under the Department of Customs has charged the Vietnam Air Petrol Company Limited (Vinapco) for illicit trade in fuel.
The Anti-Smuggling Investigation Department had gathered sufficient evidence on Vinapco to conclude that Vinapco had committed smuggling and tax evasion by making use of transit permission to bring fuel products into the domestic market by road, said an official of the Ministry of Finance on Thursday, November 29.
Vinapco's head office is located on 202 Nguyen Son Street in Bo De Ward in Long Bien District in Hanoi.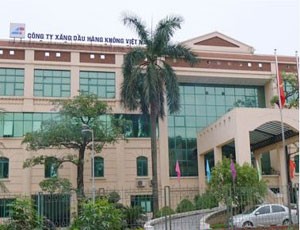 The office of Vinapco
The case was first detected on May 10 this year when Vinapco made a customs declaration for temporary import of more than 5,400 tons of Mogas 92 petrol from Singapore. After the import, this petrol volume was stored at Dinh Vu Petrol Terminal in Hai Phong Port.
In July, Vinapco made seven customs declarations at the customs office in Hai Phong Port Area 1 for re-export of 296.6 tons or around 422,600 liters of Mogas A92 petrol, worth VND8 billion, to Beihai City Oil and Aquatic Product Supply Co. in China via Ta Lung border gate in Cao Bang.
The amount of petrol for re-export was pumped from Dinh Vu Petrol Terminal into seven tanker trucks. Hai Phong Port customs officers put seals on these vehicles, finished the re-export documents and permitted the owner to deliver goods to Cao Bang for re-export on July 7 and 10.
Earlier, Vinapco made two declarations for re-export of 2,330 tons out of the 5,400 tons temporarily imported on May 10 to Beihai City Oil and Aquatic Product Supply Co. by sea.
According to papers, Vinapco appointed Nguyen Hai Trieu, acting director of Northern Air Petrol Transport Joint Stock Company, to oversee re-export of this shipment through Ta Lung border gate for delivery to the Chinese partner.
However, the investigation agency discovered that after the procedures for re-export at Hai Phong Port had been completed, this volume of petrol was immediately sold to local enterprises for consumption in Hai Duong, Thai Binh, Thai Nguyen and Phu Tho.
It was proved that Beihai City Oil and Aquatic Product Supply Co. is non-existent as investigated by the customs agency.
According to the Anti-Smuggling Investigation Department, the violation shows signs of organized criminal activity, signs of criminal smuggling provisions in the Criminal Code; tax policy violation causing losses to the State revenue and budget (import tax evasion, excise tax, value added tax and environmental protection), and serious violation of regulations on temporary import for re-export, affecting the stabilization policy over the domestic petroleum market.
Based on the investigation results, the Anti-Smuggling Investigation Department yesterday proposed filing criminal charges against Vinapco. The case file will be transferred to the investigation police agency under the Ministry of Public Security for further investigation and clarification.