Vietnamese police have uncovered an illegal kidney trafficking ring, operating across the country and having its roots in mainland China.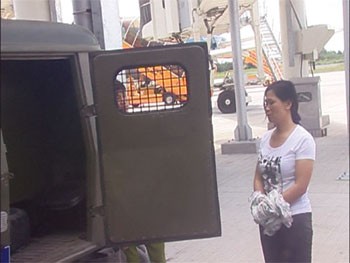 Police taking La Thi Thinh from Hanoi to Can Tho City for further investigation
Police began investigations when early this year a hospital in Can Tho City in the Mekong Delta reported suspicious markings on some patients' bodies. This led to the discovery of a 'kidney' trafficking gang operating across many provinces of the country and hoodwinking the poor and vulnerable to sell their kidney organs for a price.
Police have subsequently arrested many of the gang members and learnt more of their modus operandi.
Can Tho City Police arrested and questioned four kingpins in this regard. 40-year-old La Thi Thinh from the northern province of Bac Giang, 25-year-old Vo Dinh Van from Ho Chi Minh City, 26-year-old Le Son Truyen from the southern province of Tay Ninh and 24-year-old Quang Dai Vang from Ninh Thuan Province revealed their methods of operation to the police.
Van and Truyen were involved in selling kidney organs to two Chinese people named Vuong and Trang, who advised them to lure and entice healthy people with offers of VND40-50 million per kidney. For this effort they would receive a commission VND10 million (US$476).
Either Vuong or Trang would contact them by phone whenever a kidney was required in China and Van and Truyen would then search out people to lure in Vietnam and take them to the hospital for a general health check up.
Vuong also introduced Van and Truyen to La Thi Thinh whose job was to help people cross the border illegally into China via Mong Cai District of Quang Ninh Province. Thinh collected VND 900,000 ($42) per person from Van and Truyen for this work.
Once the kidney donor negotiated a price, Van and Truyen would buy an air or train ticket for them till Hanoi, from where they would be taken to Mong Cai District to cross into China accompanied by Thinh. Upon arrival in China, the donors would be taken to Guangzhou Province where Vuong and Trang took them to the hospital for kidney removal.
In another extension of the gang, Quang Dai Vang and Tran Hoang My, both just 18 years of age, had become acquainted with Nguyen Thanh Vu in early 2009, while searching for employment at a job center in District 11 of HCMC.
Vu enticed both Vang and My to sell their kidneys and took them to meet Truyen, who booked their air tickets to Hanoi. Vang later became part of the ring and has introduced eight kidney donors to Truyen since 2009 to this year. For each kidney he received a commission of VND3 million ($142).
The arrested gang members have confessed that since 2008 to February this year, they have taken 19 people from Dong Nai, Binh Duong, Tien Giang, Vinh Long, Soc Trang and Hau Giang provinces to China for kidney removal.
Kidney donors admitted that they negotiated to sell a kidney for VND50 million ($2,380) but received only VND30-35 million as the remainder was adjusted in board, lodging and travel fees. 
Most of them were forced to return to Vietnam within 2-3 days after the surgery. When they visited health clinics in Vietnam for removal of stitches, many found their wounds had infested and now suffer from poor health.
Police are still searching for more evidence and gang members in this case.