Vietnamese inspectors found the use of unlicensed computer software programs at a French firm in Ha Noi Tuesday, estimating this breach of software copyright is worth VND2 billion (equal to some US$118,000).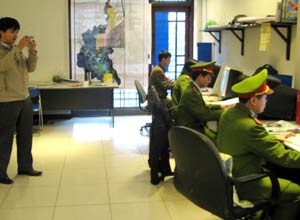 Inspectors check computers at the NKB Archi Company Tuesday (Photo: Pham Hoa)
Inspectors from the Ministry of Culture, Sports and Tourism and the Ministry of Public Security raided NKB Archi Vietnam Ltd., a wholly French-invested company specializing in architecture design.
The task force checked on 42 computers and found lots of unlicensed software in use for business. Many of the programs were professional applications, such as AutoCAD of different versions, Microsoft Office, Windows XP Professional, MTD 2002 dictionary, ACD See, and Symantec Antivirus.
Nguyen Van Tuong, deputy general director of the company, signed the inspection minutes and admitted that the company used the computers installed with pirated software programs.
Late last week, the inter-ministerial task force found out a similar case at a Korean company in Hung Yen Province, which borders Ha Noi. The inspection team estimated infringements in the case were worth VND1 billion (some US$59,000).
Inspectors from the two ministries have been checking companies and businesses across the country over the use of pirated computer software programs to protect intellectual property rights.
Also last week, inspectors from the Ministry of Culture, Sports and Tourism started giving warnings against intellectual property right violations associated to computer software to computer companies, distributors and dealers.