The disabled law, which was officially promulgated in 2011, has marked a great advance in the development of the rights for the disabled.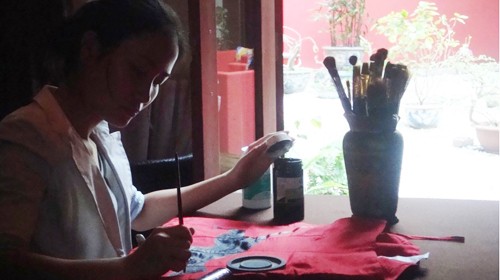 A disabled girl is drawing at her workplace ( Photo: Tuoitre)
The law recognises the important roles disabled people play in society, said Dang Huynh Mai, president of the Vietnam Federation for People with Disabilities.
In accordance with the law, the disabled will enjoy several preferential polices, said Nguyen Ngoc Toan, head of the Department of Social Policies, the Ministry of Labour, War Invalids and Social Affairs.
With the regulations on education, vocational training and employment for people with disabilities, the disabled are provided with opportunities to support themselves.
The disabled people's enrolment in educational establishment will be given priority and they will be exempt from subjects or activities which they are not physically capable of participating in, he said.
They are also ensured the right to have free access to vocational training, he said.
The preferential polices aim to increase vocational opportunities for disabled people.
At the Vietnam Federation for People with Disability's first conference, which concluded last week, Le Minh Hien, vice president of the Hanoi Disabled Association and director of Vi Ngay Mai Centre of Vocational Training, said, "Only with knowledge, skills and employment can we overcome the unhappiness of fate and poverty".
Education eases disabled people's lack of confidence, said Tran Van Tuan from Thanh Hoa province.
Education also provides chances for the disables to participate in all aspects of life, while eliminating existing prejudices and discrimination, said Tuan.
"My education completely changed my life," said Tran Manh Huy. "Now I work as an IT engineer."
However, increasing educational and vocational opportunities for the disabled is not an easy mission, said Hien.
The policy needs to be continually enforced and the links need to be worked out with an possible shortcomings that exist, she added.
In Vietnam, 37 percent of disabled people are living in poverty and 24 percent living in temporary housing.