The Ministry of Police's Environmental Police Department and the Binh Duong Province police seized on August 17 two container trucks that were carrying 168 barrels of wastewater illegally imported from Taiwan and labeled as methanol.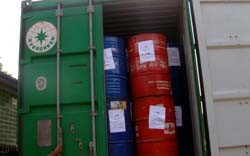 A Binh Duong Province-based company has been found to have imported hundreds of barrels of wastewater from Taiwan under the guise of methanol (Photo: Vnexpress)
They belong to the province-based Dai Dong Production – Trading Co., Ltd which insisted even after the trucks were pulled up that they were carrying methanol imported for wood production and processing companies.
But when the police opened the barrels, they found a black, smelly liquid inside. They are yet to identify it.
They also found over 400 barrels of 200 liters each and 30 barrels of 1,000 liters at the company's warehouse.
The lot also included two containers imported by Cao Thang Company for Dai Dong Company.
Ho Chi Minh City customs exempted Cao Thang's lot from examination and it was brought in through Cat Lai Port in the city's District 2 on August 15.
Chau Phong Si, director of Dai Dong, told the environmental police that his company and Cao Thang bought the consignment from Taiwanese company Osiris based in Chang-chen.
Since June Cao Thang has imported tens of such containers for Dai Dong through Cat Lai Port.
Dai Dong Company was established in 2004 to mainly import methanol from Taiwan to Binh Duong. But the environmental police reveal that it has only imported wastewater.
All the barrels have been sealed and the environmental police are continuing their investigation.