San Miguel Pure Foods Vietnam, based in the southern province of Binh Duong, was fined after its 'inadequate treatment' wastewater tank breached its embankment, spewing 230,000 cubic meters of pollution into the Thi Tinh River last week, said an environment official.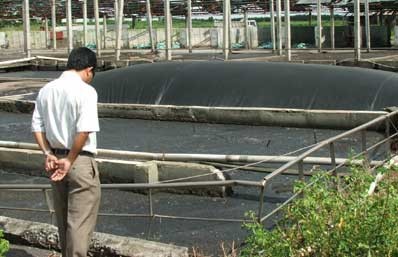 Wastewater container at the San Miguel Pure Foods Vietnam
The head of the Ben Cat District's Department of Natural Resources and Environment, Huynh Cong Du, said Lai Hung Commune lost 14 hectares of crops and various animals from the polluted overflow.
The province's environment watchdog took samples for tests and valued the damage.
The district's People's Committee directed its subdivisions to calculate how much pollution was leaked and how much damage was made to the economy and environment. In addition, the department will keep track on breeding animals, as they may need disinfecting if they fall ill from the untreated water.
Mr. Du said the company's wastewater treatment system failed to meet Vietnam's legal standards, and although the environment authority had previously ordered San Miguel Pure Foods Vietnam to repair its wastewater facility the company refused.
Sai Gon Giai Phong visited the area where the embankments where breached.
The reporters inhaled a noxious smell of pig feces and observed the blackened streams of water.
Residents living nearby are worried as their animal and crops are dying losing their only sources of revenue.
MDF Vietnam – producing wooden furniture – has made the situation worse by discharging its untreated wastewater into Thi Tinh River.
A local resident, Pham Van Hung, who owns one hectare of rubber trees, is anxious as the blackened water flows into his farm, causing death to his rubber trees.
Moreover, polluted water flowing from the side of the company is preventing residents walking across the road.
Tens of angry local people gathered in front of the plant, asking the director to stop the leaking wastewater.
In related news, Ho Chi Minh City's People's Committee deputy chairman Nguyen Thanh Tai issued a fine of VND58 million (US$ 3,400) to Hao Duong Joint-stock Tanning Company in the Hiep Phuoc Industrial Zone, Nha Be District.
The company discharged 2,000 to 5,000 cubic meters of untreated wastewater into the Dong Dien River.
The committee also ordered the company to improve its wastewater facilities.
The environment inspectors July 30 gave administrative fines to General Materials Biochemistry Fertilizer in Hamlet 5, Pham Van Coi Commune in Cu Chi District and Phu My Rubber Processing factory in Cu Chi District for not having fume treatment systems, as they had previously pledged to install.
Related article;
Cattle-feed wastewater reservoir breaks its banks, causing pollution