The wife of a Ho Chi Minh City man who became paralyzed after receiving a rabies vaccine is suing the public health clinic that gave him the series of injections.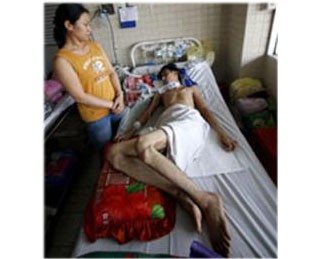 After two months in hospital, the charge is beyond his family's meager resource
Mrs. Ha Thi Bach Tuyet is seeking VND110 million in compensation from the Preventive Health Center where her husband, Tiet Duy Hieu, was given shots of Rabivax II made by Vaccine and Biomedical Product Company No. 1.
Soon after the series of injections, he experienced physical exhaustion, flaccid limbs and a sore thigh and was hospitalized in consequence.
Doctors at the Tropical Diseases Institute diagnosed acute flaccid paralysis and encephalitis.
After two months in hospital, Mr. Hieu's condition has worsened. His wife needs the money to pay for her husband's ongoing care and treatment, which is beyond the family's meager resources.
In related news, the Tropical Diseases Institute has only 80 vials of Verorab rabies vaccine left in stock, according to the institute's director, Dr. Nguyen Tran Chinh.
This is not the only hospital in this situation. To counter the shortage, the Ho Chi Minh City Department of Health has suggested medical staff try a new injection technique that should cut down on the number of vaccine doses needed per patient.
To help people like Mr. Hieu and his wife, the department is planning to set up a fund for poor people in need of rabies shots.
Related article:
Man Becomes Paralyzed After Rabies Shot