The People's Court in Ho Chi Minh City on March 29 sentenced a 45-year-old woman to death for killing her husband, Lieutenant Colonel Tran Xuan Chuyen, by giving him steady dosages of sleeping pills and pesticide for three continuous days, from March 11-13.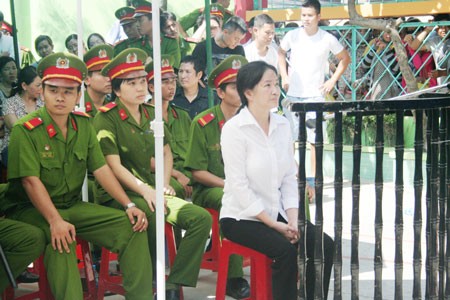 Without remorse, LIen says how to kill her husband (Photo: SGGP)
Showing no remorse, Du Kim Lien told the court that she and her husband had been facing some turmoil in their relationship as she had wanted him to help her clear her debts.

She had suggested to Chuyen that they should sell their house to pay back her debts, of upto VND1.3 billion (US$62,400) that she had borrowed from many people. Chuyen disagreed with her and had asked for a divorce.
Lien then went and bought sleeping pills, and from March 11 she began mixing them in milk she served to Chuyen on his return home from work. When she found that these did not kill her husband, she increased dosage.
Frustrated with her failed attempts to kill Chuyen with sleeping pills, she resorted to injecting him with pesticide, which finally killed him.

After Chuyen's death, she claimed he had suffered a stroke from hypertension that led to his death. However, Chuyen's colleagues suspected foul play on discovering some abnormal signs in his manner of death. A police investigation was launched and evidence collected from the scene showed some jars containing poisonous pesticide.

Vo Dan Mach was appointed as her lawyer, and at the courts, her sons pleaded for relaxation of punishment for their mother. However, Tran Thi Ut, mother of Lieutenant Colonel Tran Xuan Chuyen, wanted a heavy penalty imposed on Lien.

Finally, representatives of the People's Procuracy concluded that her act in killing her husband by lethal injections was indeed very cruel and pronounced the death sentence.

In her last statement before the court, Lien begged for a chance to be able to take care of her mother-in-law and two sons; however, the mother-in-law asked the court to pronounce the strictest sentence on her.