Residents of Trung Son and Thanh Thai Street are frightened by wild races and crazy performances in their neighborhoods at night. Efforts by the traffic police to block the races have so far achieved only limited success.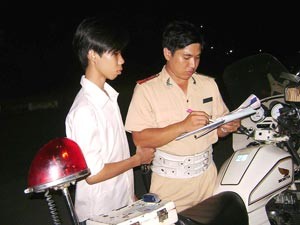 Le Quoc Bao begs a traffic policeman not to write a speeding ticket for him
Streets in the residential area of Trung Son under the Ong Lon Bridge in Binh Chanh District are favored by wild "nightriders" because they are newly constructed, wide, and in good condition.  
Complains concerning nightriders have increased since construction projects on Ba Trac Street, a gateway to Trung Son, have made that street unsuitable for racing. 
About 50 motorbikes gathered and performed their crazy moves in the area at 6p.m. on Saturday. Three hours later, after calls from residents, a delegation of the Road Traffic Police Department arrived. However, the nightriders left when they saw police motorbikes crossing Ong Lon Bridge. Some riders left their motorbikes so they could walk freely to the nearby street 9A.   
The traffic police caught three racers and confiscated two motorcycles. None of these riders wore a helmet while driving, according to the police.   
Among these, Le Quoc Bao, aged 17, had illegally changed his motorcycle into a racing vehicle. Moreover, he was not old enough to get a license. When he was caught, he objected to a penalty for speeding. Even when the police agreed not to put a punishment on the ticket, Bao still refused to sign on it.  
Another street in District 10, Thanh Thai Street, has faced the same problem.  
Thanh Thai street, which is 20m wide and 1km long, is a popular spot for illegal motorcycle races.  
"The races are held on Thanh Thai street spontaneously, same as the others on Le Dai Hanh Street, Nguyen Kiem Street, Truong Son Street and the Dien Bien Phu roundabout," said Mr. Than Minh Khuya, a senior deputy manager of the traffic police. 
About 20 motorcycles turned part of Truong Son Street in District 10 into a noisy place by operating of their motorcycles after 11p.m. on Saturday. After a few crazy rides on this street, the racers promptly ran to Thanh Thai Street. Later, two sport cars of the OXY Company under the Rohto Mentholatum Viet Nam also joined the race.  
Suddenly, the 20 motorcycles stopped and shined their lights around. The crazy race only was broken up when Group 3 of the RTPD arrived.  
On the weekend, the police have 150 traffic police and 70 motorbikes. However, the police expect to coordinate more closely with appropriate authorities in the areas and get more cooperation from residents.  
In other news, the traffic police penalized 33 cases of speeding and swerving on Thanh Thai Street, Dien Bien Phu Street, Le Dai Hanh Street, and Truong Son Street in Trung Son and took 33 motorcycles into custody. The police caught and penalized 50 traffic violators in March 14-16 and confiscated 50 motorcycles.