Police in the central province of Nghe An announced December 22 that a local woman and her family would be brought to justice for cheating sick individuals out of their money and providing unfounded treatments.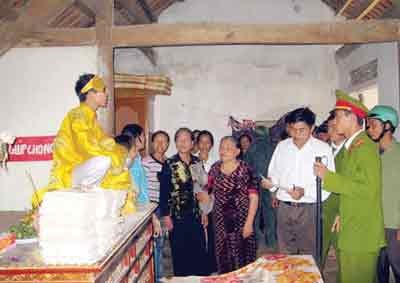 Police read the decision to arrest Nguyen Thi Huong on December 22 in Central Nghe An Province. The 26-year-old accused of taking money from the sick in exchange for bizarre medical treatments. (Photo: SGGP)
Twenty-six-year-old Nguyen Thi Huong from Cat Van Commune, Thanh Chuong District is accused of charging money for bizarre and groundless medical advice to people suffering all types of illness.
According to police, on November 5 Huong suddenly declared she had been chosen by the Gods to cure people's sickness. Her family proclaimed that she could cure everything from heart, lung, and brain diseases to heroin addiction and HIV.
Her treatments ranged from spraying perfume all over a person's body; to burning them with incense; and even advising them to go naked.
For her services, Huong charged VND40,000 per treatment.
Hundreds of visitors sought out Houng daily, despite the fact that most people's illnesses failed to be cured and many became more serious.
Patients and locals finally denounced Huong and alerted authorities.
Police said the woman had no schooling beyond grade 7 and had knowingly deceived sick and vulnerable people for profit.