The Hanoi People's Court on Monday sentenced 30-year-old Nguyen Thi Le to four years in prison for kidnapping an infant.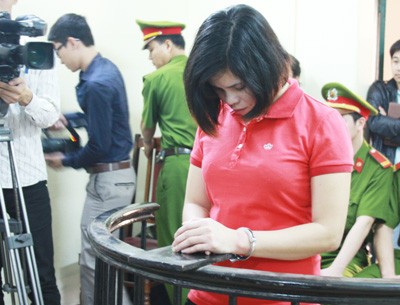 Nguyen Thi Le in court on April 9
According to the indictment by the City People's Procuracy, Le kidnapped Pham Van Truong soon after birth from the National Hospital of Obstetrics and Gynecology on November 3, 2011.
Truong was born to 35-year-old Tran Thi Thom from Hung Yen Province.
Le admitted that she had visited many obstetric hospitals in Hanoi in November last year with intent to kidnap a new born baby. 
She made one visit to the National Hospital of Obstetrics and Gynecology dressed like a doctor, and managed to convince the baby's mother that she was taking him for a bath, but instead smuggled the child out of the hospital.
After five days of searching for the kidnapped child, the Criminal Police Department in Hanoi traced Le and the baby in Dong Anh District.
In court, Le sincerely apologised to Truong's family while admitting her wrongdoing.
The jury only sentenced her to a four year prison term, taking onto consideration that Le had kidnapped the baby with intention of bringing him up as her own.