Tran Thi Tuyet Minh, a resident of Ba Dinh District, has been sentenced to one and a half years in prison for brutally mistreating her housemaid, by a court in Hanoi on May 16.
According to the indictment at the People's Court in Ba Dinh District,   Pham Thi Phuong, 59, from Ung Hoa District in Hanoi was hired by Minh's daughter as a housemaid to do domestic chores in September 2011.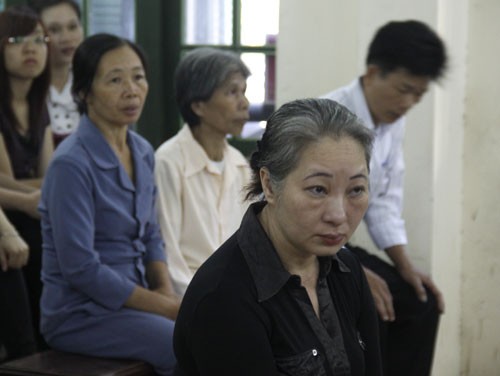 Defendant Minh at the court (Photo: Thanh nien)
Since then, Phuong suffered physical abuse on several occasions in the hands of Minh who beat her with shoes and even forced the poor housemaid to eat her grandchild's faeces.
But of all brutal acts the worst was in January 2012 when Minh forced Phuong to strip naked while she poured hot water over her body, which caused burns all over Phuong's body.
In court, ironically Phuong begged for relaxation of the sentence for the defendant Minh, who in turn expressed deep regret for her actions. 
However, the court jury said that her actions had caused public outrage and sentenced her to one and a half year behind bars.
In related news, police in Phu Tan District in the southern most province of Ca Mau announced on May 16 that they have filed a lawsuit against 30-year-old Pham Thai Tay, living in Ngoc Chanh Commune of Dam Doi District in Ca Mau Province, for raping a 17-year-old student.
About ten days ago, Pham Ngoc Sa from Cai Doi Vam Town in Phu Tan District, and mother of eleventh-grade student of Phu Tan High School named N.T.T.D, found her daughter in Pham Thai Tay's rented room. Tay was a literature teacher at the Phu Tan High School.
On asking her daughter, she learnt that T.D and Tay had already had sexual intercourse twice before in April, with T.D receiving VND500,000-700,000 (US$24-34) on each occasion from Tay and instructed not to tell anyone. She was also promised to be told of topics prior to exams so as to get higher marks.
According to Tay's neighbours, T.D usually visited Tay in early afternoons and did not go home until evening. Moreover, the door of his room was always closed whenever T.D came by.
Both mother and daughter reported the matter to the police in Phu Tan District on May 4. Senior Lieutenant-Colonel Bui Van Quyen, head of the Police Department in Phu Tan District, stated on May 14 that Pham Thai Tay was taken into custody for further investigation but granted bail in accordance with Part B of Term 2 in Article 113 of the Penal Code.
On the same day, headmaster Nguyen Van Hien of Phu Tan High School announced temporary suspension of Tay and approved a two week leave application for T.D.
Pham Thai Tay, who is married and with children, has taught at the Phu Tan High School since 2008 and was considered a fairly good teacher, winning the title 'Excellent Employee' every year. N.T.T.D was also a fine student in both her tenth grade and the first semester of eleventh grade.