A 52-year-old woman and her 23-year-old son were sentenced to 20 years in prison each for drug smuggling by the People's Court of Lai Chau Province yesterday.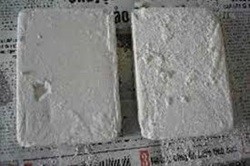 The lure of high profits leads people to become drug traffickers.
The two convicts are from Dien Bien Province.
On November 17 last year, Giang Thi Che asked her son Ly A Giang to help smuggle two cakes of heroin, worth VND280 million (US$13,300), in Dien Bien. Giang hid the drugs inside a wooden chair, which was then taken to Lao Cai Province by Che and Giang for delivery to another person.
However, they were arrested on November 18, 2014, in Lai Chau Province's Than Uyen District by the provincial police, while travelling to the planned destination.
During their interrogation, Che and Giang admitted to the crime, stating that the lure of high profits led them to become drug traffickers.