Thousands of wild animals, including snakes and monkeys, were discovered during a raid on a house in Xuan Thoi Son Commune of Ho Chi Minh City's Hoc Mon District.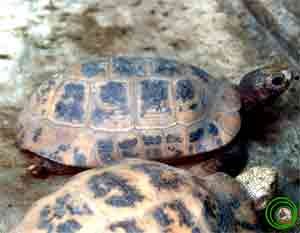 The Indotestudo elongate (Photo by: Phung My Trung, vncreature.net)
HCMC police found thousands of wild animals being kept at the house of Ms. Tran Thi Kim Nhanh, at Xuan Thoi Son Commune's 12/4 Hamlet 3, at 2:20 p.m. yesterday.

The menagerie included 435 long-tailed macaque monkeys (Macaca fascicularis), 2,580 turtles of various species - including 150 Indotestudo elongate, 489 Hieremys annandalei, 517 Geoemyda grandis, 478 Geoemydas tcheponensis, 486 Damonia subtrijuga, 469 Emys crassicollis - 290 iguanas, 162 teal ducks, eight civet-cats, 400 copperhead snake and thousands of varieties of snakes.

Environment police returned to Nhanh's house at 6:40 p.m. and discovered thousands of turtles, snakes, iguanas and civet cats being kept in an empty house next door.

Nhanh said she was the owner of all the animals.

Police asked local forestry management authorities to assist in the identification of the animals. The authorities were working together to confirm the legitimacy of Nhanh's ownership and storage of the animals.

The local forestry management authorities ascertained that the animals were legally owned by Nhanh, pointing out that on November 21, Mr. Nguyen Dinh Cuong, director of the HCM City Forestry Management, had issued a "special transportation permit" for Nhanh to transport 80 Indotestudo elongate turtles, 50 Geoemyda grandis turtles and 96 copperhead snakes to Mong Cai City of Quang Ninh Province to sell.

Police suspect an illegal animal transportation and trading operation and are conducting further investigations into the case.