Police investigators in Thu Duc District yesterday said they arrested Phan thi Kim Loan, 47, for probe of murdering and property robbery.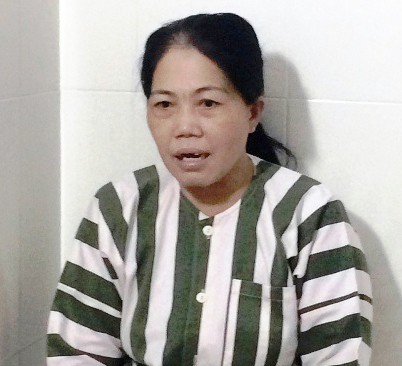 The female robber (Photo: SGGP)

The victim is a taxi driver, 51, in Ho Chi Minh City's Thu Duc District. Before, on March 26, while passing by the alley No.47 , a waste collector detected a dead man in a taxi. Frightened, she called out for help and informed police officers who soon rushed the driver to a nearby hospital for emergency treatment yet he died.
Through investigation, police officers discovered the driver's assets such as money, mobile phone disappeared; accordingly, they arrived at a conclusion that the man was robbed. The culprit has controlled him to the alley and robbed him.
With their skills, police officers in Thu Duc District verified Loan who are famous for deploying anesthetic to rob people's property to be the customer on the taxi.
In the police station, Loan confessed to be culprit of the robbery. She intended to rob those who want sex. On March 25, she and another woman invited man to have sex in a street in District 12. Later, she called the taxi and seduced the man to Thu Duc District. On the way, she bought beef jerky and 4 beer cans which she put drug into. When the driver fainted, she searched for money and mobile phone.
The woman is a professional anesthetic user. 6 years ago, she was arrested for causing 20 cases of robbery with anesthetic. One year ago, she finished serving her sentence in prison yet she returned to the same way.
Investigators thought her to be a culprit of other cases so they expanded probe.