Yemen seethed with anger Saturday as medics raised the death toll from a sniper attack on protesters to 52 and thousands rallied despite a state of emergency imposed by the autocratic regime.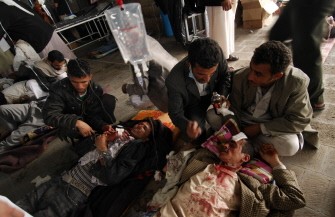 Yemeni medics treat wounded anti-government protesters in Sanaa March 18, 2011 as 46 comrades were killed and scores wounded when pro-regime loyalists and police opened fire on them
The slaughter in the capital Sanaa on Friday afternoon was the bloodiest day in weeks of unrest that has shaken the regime of President Ali Abdullah Saleh, a key US ally in the war against Al-Qaeda militants on the Arabian Peninsula.
Witnesses said pro-Saleh "thugs" rained bullets from rooftops around a square at Sanaa University, the centre of demonstrations seeking the end of Saleh's 32-year rule.
Many of the victims were shot in the head and more than 120 people were wounded, medics said, in scenes that shocked the world and drew diplomatic scorn from Western powers and human rights monitors.
The toll climbed overnight as six of the critically wounded succumbed to their injuries, according to medics.
Elsewhere on Saturday, witnesses said police shot and wounded an anti-regime protester in the southern city of Aden as they tried to disperse demonstrators demanding Saleh's resignation.
Three other demonstrators were injured in the clashes in Aden.
Thousands of people remained camped at the square despite the ill-defined state of emergency, which Saleh announced late Friday as he offered his "regrets" for the killings.
He blamed unidentified gunmen opposed to a Saudi-backed peace initiative and denied that the police were involved.
The slaughter flew in the face of repeated US appeals for restraint and the respect of human rights in the impoverished country, which is also struggling to contain a successionist movement and a Shiite rebellion.
US President Barack Obama strongly condemned the crackdown and called on the key US anti-terror ally to live up to a pledge to allow peaceful protests.
"I strongly condemn the violence that has taken place in Yemen today and call on President Saleh to adhere to his public pledge to allow demonstrations to take place peacefully," Obama said in a written statement.
"Those responsible for today's violence must be held accountable."
He called on "all sides" to discuss their differences and address the "legitimate concerns of the Yemeni people," although the opposition has called of talks saying Saleh no longer has any credibility as a negotiating partner.
The opposition says the president must resign this year but he has refused to leave until his current term expires in 2013. In the meantime he has offered to devolve power to parliament under a new constitution.
UN human rights experts deplored the carnage which they called a breach of international law.
Christof Heyns, the UN special rapporteur on extrajudicial executions, warned that security officers who fail to protect peaceful demonstrators against violence can be "held criminally accountable."
Frank La Rue, the special rapporteur on freedom of opinion and expression, said "such flagrant human rights violations are utterly deplorable," in a joint statement with special rapporteur on torture Juan Mendez.
European Union foreign policy chief Catherine Ashton said she was "dismayed" by the violence and demanded Saleh stand by commitments announced on 10 March to protect the right to peaceful protest.
But Western diplomats have made repeated calls of this nature since the violence erupted in Yemen a month ago and the bloodshed only appears to be escalating, with the total toll more than doubling Friday to around 80.
US-based Human Rights Watch said the time had come for the United States suspend its military aid to Yemen, where it has sent special forces troops to help train anti-terror units in the fight against Al-Qaeda.
"Time and again, President Saleh promises he will stop attacks on peaceful protesters and yet the number of dead keeps rising," said Sarah Leah Whitson, the HRW Middle East director.
"The United States should back up its words condemning the carnage with action, and halt military aid to Yemen."
Washington has provided "more than $300 million in military and security aid to Yemen in the past five years," the New York-based group said.
"The US should make further military aid contingent on the government ending attacks on protesters and holding accountable officials and others, regardless of position, who are responsible for the unlawful use of force," HRW said.
On March 10, Saleh offered to devolve power to parliament under a new constitution and pledged to protect protesters.
Opposition leaders last week called off negotiations with the regime but in the wake of Friday's killings Washington again called for dialogue.