Two out of nine Vietnamese lured to work at sweat shops in China have managed to escape to Vietnam and recounted horrific tales to Tuoi Tre.

* They had to work daily from 7:30 a.m. to 22-23 p.m., even overnight.
* They had to look for left-over food scraps in dustbins to feed themselves.
* To survive freezing weather, they had to beg for used sweaters
* One of them was sexually harassed by a Chinese boss
* The illegal immigrants dared not to go out of their factory for fear of being arrested
*They were rescued by a local
* Seven are still stuck in China


The two lucky ones, who wanted their names withheld, are U, 26 years old, and T, 25. Both of them are from An Phu District, southern An Giang province.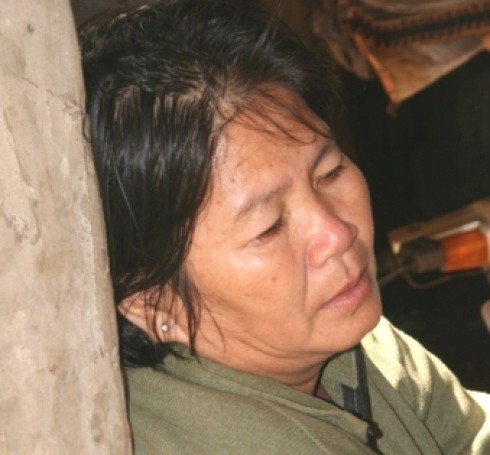 Tran Kim Dan, who has three relatives, including her son and daughter, who are stuck in China
They managed to return home in An Giang province early this month and reported to Tuoi Tre that they could escape China thanks to the help of a kind-hearted Chinese in Guangzhou province.

Seven Vietnamese people are still being stuck in China. They are Pham Van Nam, 37; Ngo Phuong Ngoan, 20; Nguyen Thi Thanh Kieu, 20, Ngoan's wife; Do Phu Cuong, 17; Duong Thanh Nhan, 22; Nguyen Van Dieu, 22; and another young man named Cuong with unknown age.

Earlier, U and T, along with these seven, were lured to China by a man named Thoi, who promised that all of them would have good jobs with a net salary equivalent to VND4 million (US$190) each per month.

Thoi also said he would cover all expenses related their trip to China.

In early December 2010, all the nine people, plus Thoi and his girlfriend traveled from southern An Giang province to the northern province of Lang Son, where they stayed in rented rooms in bad conditions for three days.

Two unknown men later joined the group. They together were then squeezed into a 7-seat passenger van that had no chairs to cross the border to China.

They were later dropped on a desolate area and began their long walks through forests and passes.

Exhausted and terrified, U, T and some others said they wanted to return to Vietnam. Immediately, they were threatened by one of the two strange men, who pressed a knife on a member of U's group and asked, "Do you want to go ahead or return now?"
Filled with fear, none dared say anything but continued their journey in freezing weather before taking a rest at a deserted house on a mountain pass.

Eventually, they arrived in Guangzhou province and stayed in a rented house. They later were taken to a leather shoe factory in Fujian province to work.
15 hours, two meals a day

Thoi said they would work 12 hours at most every day starting from 8:30 a.m. and that they would be given three meals a day and advanced some money twice a month.

The two told Tuoi Tre Thoi was lying. In fact, they were forced to work from 7:30 to 22-23 p.m. and were given 2 mean meals. Anyone who was sick and could not work was given no money or food.

U made phone calls to Thoi for help but he just gave her empty promises.

In early March 2011, Thoi asked the group to flee from the factory and said he would introduce them to another factory that had better working conditions.

Sexual harassment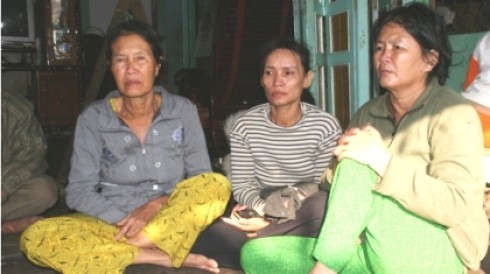 These women are waiting for information about their relatives in China
In fact, this new leather shoes factory was even worse than the previous one. U was once sexually harassed by her boss when she was sick and stayed in her room.

It was very cold in China at the time. It snowed heavily while the group had no sweaters. They had to beg for used clothes from their co-workers, the two told Tuoi Tre.

None of them dared to go out of the factory as Thoi warned them, "In case you were caught by police you would be jailed for 3 months and given a fine of VND100 million ($4,900).

The group had to search for leftovers or expired food in dustbins to survive the starvation.
U. later felt into a serious illness and was hospitalized. At the hospital, she got acquainted with a Chinese local and told him her story.
This kind-hearted man later interfered and managed to persuade the factory's boss to let U and T return to Vietnam.

He even took U and T to an area bordering Vietnam's Mong Cai town to see them off.
"Go home and never return!", he said.

Three Vietnamese arrested in China

Following information from U., Tuoi Tre came to An Giang to meet some relatives of the seven Vietnamese people being stuck in China.

Among them are Phan Thi Phuong, 42, mother of Duong Thanh Nhan, and Tran Kim Dan, 52, who had three relatives being forced to work illegally in China.

In An Giang, Tuoi Tre contacted some victims via phones and all of them confirmed what U. said was true.

Nguyen Ut Hau, from Immigration Management Department (PA72) of the An Giang Province Police, showed Tuoi Tre a fax in Vietnamese from the Vietnamese Embassy in China.

The fax showed the names of three Vietnamese people arrested by Chinese police for illegally immigration.

Accordingly, Cuong, Nam and Nhan have been handed over to the Vietnamese Embassy in China.