Two students somehow successfully managed to study and operate their own business at the same time.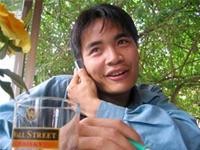 Busy all the time: Ha Huy Thanh, 24-year-old director of the PC Care Canter EM 
They are Ha Huy Thanh, a 24-year-old student at National University and director of the PC Care Center EM; and Nguyen Van Hoa, a 21-year-old student of the renowned Aptech Computer Training Center and director of the IT solution firm Halo.
Both were born in the capital city Ha Noi. Thanh failed the university entrance examination while Hoa passed it into National University Ho Chi Minh City, but he gave up because of personal reasons.
These two young men decided to stay in Ha Noi one more year to look for another opportunity.
Huy Thanh hired a small room and prepared for the next entrance examination and studied plenty of IT materials. Finally, he passed the examination into the economic department of the National University in Ha Noi.
As for Hoa, he had to experience many jobs, such as employee in a photocopy shop, programmer and graphic designer to make his own living.
He then took the Aptech Computer Training Center's examination and passed at the second try.
Studying and Working
Currently Huy Thanh is head of the NTG (New Thinking Group), which employs his classmates. As the group leader, he is famous for his slogan "quality of thinking makes quality of life".
This group has picked up the first prize of the Student Starting Career Contest 2005, held by the Vietnam Chamber of Commerce and Industry with its "Making Business Idea Become True" project.
That performance is a vital stepping-stone to others. By now, Huy Thanh and his staff in PC Care Center EM, who are also members of the NTG, have received dozens of contracts to maintain the computer systems at many big companies.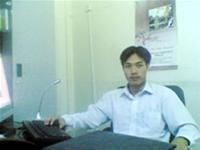 Nguyen Van Hoa, 21-year-old director of the IT firm Halao, works at his office
Meanwhile, Nguyen Van Hoa used his own scrimping money, brought by extra jobs, to establish his IT solution firm Halo in July 2005 when he was 20 years old. Besides, Hoa was partly shored up by his elder brother.
The young director feels confident about his experiences from the time he worked for other companies.
Hoa also found himself interested in graphic programming so he decided to take a examination of the renowned Aptech Computer Training Center. And as mentioned previously, he is now running his own business while studying his favorite course.   
They Make Good Progress
Ha Huy Thanh affirmed that quick studying is his and other young people's advantage today.
"You ought to do what is best suited your ability. This is the best way to prove yourself," the PC Care Center's head says.
For the present, his NTG is teaming up with the National University Communist Youth Union and Student Clubs to hold many meetings, training courses and workshops on how to optimize thinking.
"I am now 21 and I do not think I am still young. Time waits for nobody. To catch up with my competitors, I have to work harder and faster," Nguyen Van Hoa says.
Currently, Hoa and his staff are making a Multimedia Program of studying Vietnamese through folk tales, an order from Swizerland.
From the two young directors, we can say that a generation of very young businessmen are being born. Bill Gates said: "Computer and Internet are changing the way of thinking and doing business around the world".
Young people like Hoa and Thanh are trying their best to catch up with the global technological development. They are the key factors that help Viet Nam's IT industry develop.