Born on March 21, 2003, Pham Duc Thuan can read when he was 34 months old. He is the child of Pham Chi Thuan and Dong Ngoc Han in Thuan Tien A hamlet, Thuan An Commune, Binh Minh District, Vinh Long Province.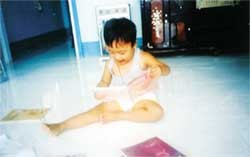 Thuan reads book
Ms.Han said Thuan is healthy and active but he could talk and walk rather late. Until he was 24 months old, he could only say daddy or mommy.

Because Thuan's family lives far from any kindergartens, his parents keeps him at home and only teaches him to bow and say hello or yes, no when answering. Reading was not yet part of the training for the young boy.

However, 2 months ago, he started to read the name of people on television, sing karaoke and read the book of first-grade pupils.
Thuan's mother examined his strange ability by giving him a sheet of calendar, he could read the date. His mother added that he liked to read shops' advertisements and signboards when walking on the streets.