Having taken care of street children for thirty seven years, Mr. Nguyen Ran has led an active legendary life, changing the fate of beggars, lottery sellers, even juvenile delinquents into useful citizens. Scores of children lost their parents in the 1968-war and became homeless. They were wandering to earn their living. When returning home from work one night, Mr. Ran saw two children in ragged clothes sleeping on the pavement. He felt sorry for them and took them home to bring them up with his friends' supports.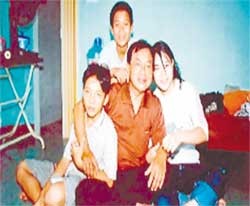 Mr. Ran and his adopted children.(Photo: SGGP)
He took all his 10-year savings and his friends' help to build the "Family for street children". The family for street children arose from his determination.

At first it was located in Ham Nghi Street but later it was moved to Nguyen Hoang Street. Mr. Ran came back to Da Nang to get married in 1973 but continued his work as an adopted father of street children.
When the International Volunteer Sponsorship Association and Japan's Peace Association found out the model, sponsored and applied for a permission of a Care Center for Street Children in Da Nang, he was put in charge of this center. He is now the Management Chief of five such families of the Center in Da Nang.

He said, "Most of these children left their homes because of poverty and family breakdowns so it is not easy to advise them to come back home." On these early days he had difficulties taking them to the Center.
However, he was determined to bring them a more splendid future; he prepared documents namely IDs, birth certificates so that the children can apply for admission to schools. Scores of street children came to the center.
Nguyen Van Thai, one of the street children in the center, said, "I stole many things when I was a street child. It is so bad, and I must stop doing that." Currently, Mr. Thai is working as an apprentice in a mechanic workshop.

In his later-life wish, he expects the children to think about the lovely memories that have kept them from evils. It is very reason why the children in the center of Da Nang City love and respect him for ever.