A small cafe in downtown of central coastal city of Quy Nhon attracts many young customers not just because of its extensive menu of beverages, but also because of another reason: many English-speaking customers patronising this Language Cafe are willing to help local students practise their English.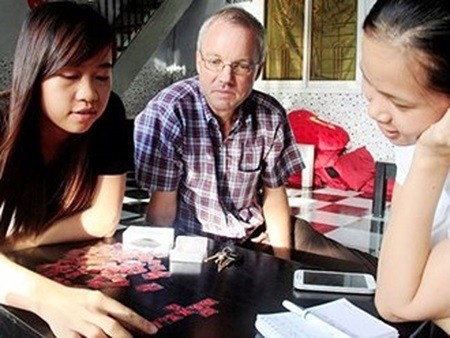 Coffee class: Language Cafe owner Nguyen Thi Thu Thanh (right) introduces a game she created for customers to practice English. — Photo tienphong.vn
On a Saturday evening, Le Thi Hong Cam, third-year student of Quy Nhon College, fixed a date with her friends at this language cafe, 237 Nguyen Thi Minh Khai Street, to practise English.
Tonight, a British man, Nic Cumiffe, prepares to speak to the students on the subject of difference between British and Vietnamese cultures. Using his laptop, Cumiffe takes the students to various tourism destinations in the UK and explains the distinct features of British people, their culture and cuisine.
From time to time, he asks students questions about Vietnamese culture. Some of his humorous quips make them all laugh loudly.
Nguyen Thuy Ly, a frequent visitor to the cafe, is again here tonight with her 10-year-old daughter, Yen Nhi, to this "open-class". Nhi is fond of English but is scared to speak the language.
"I bring my daughter here to make her more confident to speak the language," said Ly, adding, "She is interested in joining older students chatting with foreigners."
Many visitors to the cafe join others, thus sharing tables with strangers to avail of a chance to chat in English.
The cafe is small and all the visitors sit on the floor around small tables. At the weekend, hardly any seat is left vacant.
Last Sunday, Cam had joined Cris Grecct from Brazil for a chat on the difference between Vietnamese and Brazilian cultures. Today, Grecct returned to listen to them talk about British culture.
"I love travelling and am really impressed with Viet Nam and with its kind-hearted people, their favourable nature and a lot of interesting things to explore," he said.
Nguyen Thi Thu Thanh, 25, owner of the cafe, said she decided to realise her dream of opening a cafe just for practising English.
Thanh wrote letters to the US, Sweden, and to the Netherlands and Switzerland embassies in Ha Noi to ask for free materials.
"I was surprised when I received their warm feedback," Thanh said. "They sent me English language magazines, books and some small gifts like small fans with their country's logo."
Thanh has been interested in English when she was a student. She joined various clubs for practising English and has a lot of foreign friends. She used to invite her friends to visit her cafe shop to chat with customers and they used to enthusiastically join in.
A guy from Germany named Steven also helped her as a waiter and is willing to chat with customers in English.
Thanh has also designed some special language developing games for customers and has an updated collection of English songs.
"With Language Cafe, I not only satisfy my own passion for English but also connect people sharing an interest in the language for an exchange about cultures and thus develop their communication ability to suit the demands of modern life," Thanh concluded.