It is truly right to say Wifred Gluud, a Dane, has a Vietnamese heart, as he has made great contributions to Vietnam, especially for the poor and sick children. For him, helping poor children is like bringing Spring to them.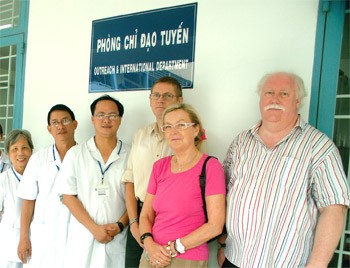 Wilfred Gluud at Children's Hospital No.1 in HCMC. Mr. Gluud, a Danish journalist, has helped raise millions of dollars for healthcare programs in Vietnam
Mr Gluud, 61, has a kind face and looks younger than his years. At this age, he ought to be resting, but he confided that he never wants to stop his work with Vietnam, a country he has had ties with since the war.
 
Asked what binds him to Vietnam, he said the images of a nation which had a thirst for independence and freedom. It was their willingness to fight in fierce wars to achieve those goals, which brought his admiration of Vietnam.
 
When he was young, in the early 1970s, he joined protest movements against the Vietnam war. He joined the Denmark-Vietnam Union Committee as chairman in 1970, and has served as a member of the Executive Board of the Danish Vietnamese Association (DVA) since.
 
In the past 30 years, DVA together with the Danish International Development Agency (DANIDA) has raised $6 million and health equipment for projects aimed at ill children, especially projects to curing acute respiratory infection – a mass killer of children under 5 in Vietnam - petechial fever, malnutrition, marsh fever and diarrhea.
 
Under DVA assistance, other projects have also been implemented in Vietnam, such as rehabilitation for disabled children, building free boarding-houses and giving free meals to relatives of child patients. 
Vietnam Ajour, a newspaper Mr. Gluud edits
In order to collect charity funds for Vietnam, he has worked for newspapers, such as Vietnam Solidaritet, Indokina Solidaritet and Vietnam Ajour.
 
In all of these newspapers, he has spent a large amount of time publishing articles and photos about Vietnam.
 
Having been a member of the editorial board of DVA site www.davifo.dk since 2008, Wilfred Gluud edits articles about the consequences of Agent Orange used by the US in Vietnam. He has actively called for US chemical companies to compensate Vietnamese AO victims.
 
Gluud is proud of his contributions to DVA's charity works. For his contributions, the Vietnamese State has awarded him the Peace and Friendship Medal.