There is a story about a small Vietnamese woman whowas struggling to save her husband from drug addiction and AIDS, told amongtownspeople in the northern province of Phu Tho.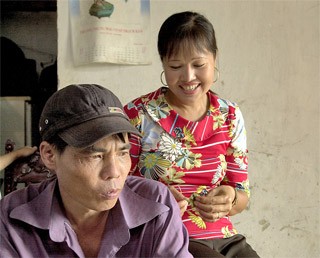 The coupleBinh-Chung look very happy when they aretogether
At a small house near the Lo River, Ms. Chung, her eyes filled with tears,now shares the story of her life.
She and her husband, Mr. Nguyen Van Binh, got married in1991, poor but happy.
However, Mr. Binh quit his job as a worker in a brick kilnhoping to make money in the jungles of northern Yen Bai Province, findingprecious stones.
He was soon disappointed and his hopes faded as his plansappeared unsuccessful. While he worked hard, he earned little money. Living farfrom family, he always felt lonely.
While he was weak, corrupt acquaintances convinced him totake drugs to feel better. When he returned home, he was in badshape.
And then in 2000, Ms. Nguyen Thi Ha, head of the localmedical clinic, met Ms. Chung at her shop in the market and asked whether shemight drop by her house that evening.
Ms. Chung was flabbergasted when Ms. Ha delivered news thather husband had tested positive for HIV.
She remembered the following days. Her husband's bad newsspread like wildfire across the small countryside commune. Having been shunnedand sometimes badly treated by neighbors and relatives, Mr. Binh became weary ofthe world. He drank all day and picked quarrels regularly.
His two children expressed their desire to leave school toavoid being teased by classmates.
Ms. Chung was also in a desperate state, crying all day infear that she would also get the deadly disease and die, leaving her childrenhomeless.
Ms. Chung finally decided to take a bus to a hospital to gettested. Crying for happiness when the results came back negative, she becamedetermined to wean her husband off drug addiction.
Mr. Binh continued his wife's words to tell the story,saying that he used to think about committing suicide. His wife, however, wasalways at his side to encourage and help him overcome his addiction. She evensold her shop to have more free time with him in his struggle.
The couple eventually found success. Ms. Chung asked herhusband to return to his previous job as a brick maker.
They built two brick kilns using VND$100 million loaned fromrelatives to start a new life. In the first days, only four men – all HIVpositive – worked for the brick kilns because others thought they would contractthe deadly disease.
Once again, Ms. Chung did not give in to fate. She tookpapers about HIV from the local medical clinic to raise public awareness of thedisease and tell people not to shun HIV patients but to value their good deedsin their hard life.
Currently, 80 employees work for the kilns with an averagesalary of VND 1 million. The couple are happy to announce that they saved VND100million to pay for their children's school fees after they settled theirdebt.
Mr. Binh became close to tears, saying that he was so luckyto have a faithful and brave wife who had given him another chance inlife.
The laughter of children has returned to their small houseby the Lo River.