Mr. Ngo Binh lost eight family members to the war, each of whom sacrificed their lives for the nation's liberal revolution, representing the country's unyielding spirit, patriotic tradition and revolutionary heroism, said Mr. Tran Hung Lap, Chairman of the Truong Chinh Ward People's Committee.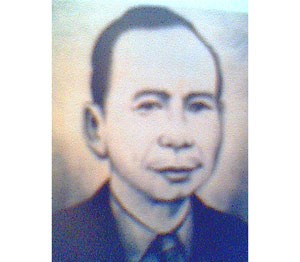 Portrayal of Martyr Ngo Mien

Suffering from such a great loss, Mr. Binh cannot suppress his tears when he begins to discuss his family. In the time of the liberal war, three generations of his family including his grandmother, father and mother, his three aunts, uncle and a cousin answered the nation's urgent call and joined the revolutionary force.

Looking at the family's altar with the names of eight loved ones carved on it, Mr. Binh started to talk about his father, Mr. Ngo Mien, who joined the forces in 1940 and whose revolutionary career was closely linked with the central highland province of Kon Tum.

During his 24 years of service in Kon Tum province, Mr. Mien excellently accomplished many missions, including educating local people about revolutionary ideals and helping establish a revolutionary force in local areas.

In 1972, Mr. Mien was arrested and died at the hands of the enemy. His famous last words were carved deeply into the hearts of the local people, "I am a communist. I fight for the nation's ideal, to free my fatherland and protect my people. A communist never kneels in front of his enemy."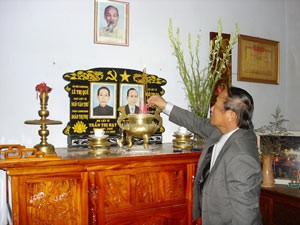 Mr. Ngo Binh in front of his family's altar
Mr. Mien's devotion was acknowledged by the Government. He was given many prestigious medals and was awarded the title of Hero of the People's Armed Force by the Country's President.
Mr. Binh followed his father's example, devoting his life to Kon Tum province. After finishing his studies in the north, he returned to Kon Tum, where he held many important positions including Deputy Chief of the Kon Tum Province People's Committee Secretariat, Manager of the Department of Science, Technology and Environment, and Member of the Standing Provincial Committee of the Party.

Living up to family tradition, Mr. Binh always tells himself to live as a man with great sense of discipline and righteousness, one who abides by the law, fights against evil and most importantly, lives and serves the people as his loved ones did before him.