For twenty years, the nuns of Binh An Pagoda in Ho Chi Minh City's Binh Tan District have dished out love and care in abundance to the orphans and old people who live there.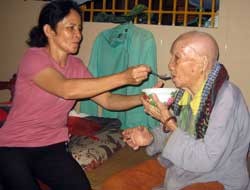 Ms. Chau, one of Binh An Pagoda's residents, helps to look after the old folk
The latest arrival on their doorstep is 76-year-old Nguyen Ngoc Le, who was eking out a living by selling lottery tickets in the streets.
Like many of the 54 aged residents who had nowhere else to go, Ms. Le had lost her entire family.
One day a kind stranger told her about Binh An, so she followed their instructions and found her way to the temple.
Ms. Le was immediately accepted by the Buddhist nuns, who promised she would never need to work again.
Ms. Nguyet, whose mother recently died at the pagoda, is touched by the nun's devotion. "We came here to live ten years ago. I am so moved by the nuns' care; every one of them fussed over my mother's funeral," she said.
One of the nuns of mercy, Hue Binh, relates how they had to ask the neighbors for bamboo and leaves when they began building a simple home for old folks twenty years ago.
Time passed and the pagoda became a warm haven for poor old people and young orphans too.
Eventually the nuns decided their charges needed a spacious brick house to live in, so they spent a hard year baking and selling cakes to raise the money and build the new place.
Every day, the residents get three nutritious meals and a bottle of milk or a glass of orange juice. The older ones spend their free time exercising, watching television and sometimes praying.
So far the nuns have raised two dozen orphans and abandoned babies, and made sure they got some formal education. Several of them are doing well at school and two have gone on to attend the University of Social Sciences and Humanity. The nuns are so proud of them.
"Working hard is not a problem for us. What does worry us is their schooling, as the local authorities have just refused to issue resident certificates for the young newcomers," Hue Binh said.
Perhaps the bureaucrats can learn a lesson from the nuns and drop their steely-eyed resolve to make life more difficult.