Vietnamese traditional musical language, xam or busking, has been used for the very first time to communicate social issues in a music video entitled Xam Tra Da (Iced Tea Busking).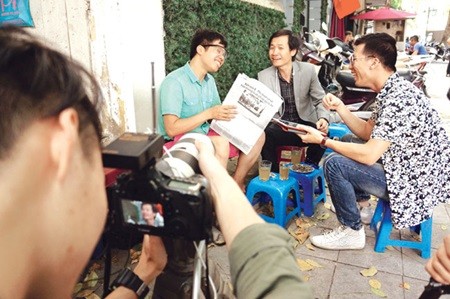 Sing it loud: Xam Tra Da (Iced Tea Busking) is a creative way of discussing news using a unique Vietnamese traditional art form. — Photo daidoanket.vn
The special video was released on June 21, which coincided with the 90th anniversary of Viet Nam's Revolutionary Press Day.
The nearly nine-minute-long video has been produced by Xam Ha Thanh, a group of buskers in Ha Noi. It is also the first product that will launch the upcoming musical project entitled Tinh Hoa Nhac Viet (Vietnamese Musical Quintessence).
"Xam, the music of blind street performers from the old days, has always been a means to express feelings and emotions. Buskers have been able to compose or extemporise songs about current affairs that the communities where they are living are concerned about," musician Nguyen Quang Long, who is also the initiator of the project, said.
"We want to continue to promote the strength of busking and contribute to raising the voice of the masses on contemporary social affairs."
Xam Tra Da is a potpourri of four main songs – Tam Tri An, Dan Lang Tu Lo Giu Rung, Bo Con Bo Vo and May Bay Roi – all of which have been cleverly connected in a story told by special reporters who are also buskers. The contents of the songs refer to social events trending on television, newspapers and the Internet.
The video begins with the scene of a young man (played by singer Nguyen Shan) riding a motorbike along familiar streets around Sword Lake. He stops at an iced tea stall.
There he meets two friends (played by singers Quang Long and Khuong Cuong) and has a chat about hot current issues, including the behaviour of the youth when the free water park opened early this summer, the bravery of Bahnar ethnic people in the central Gia Lai Province in protecting their forests, the rising numbers of young mothers who are abandoning their newborns and also airline safety.
Explaining the title of the music video, Long said the iced tea stall has become a distinctive image of Ha Noi and also a popular rendezvous point for Hanoians during their free time. The topics discussed at the stalls are also as current as broadcasted in any official channel. This was the inspiration for the video being named Iced Tea Busking.
"Xam Tra Da is being broadcast mainly via YouTube, a public channel where people can freely share information with each other. We producers plan to cover news about traffic, currently a hot issue, in the next episode of Xam Tra Da, which is expected to be finished in the next two months," Long said.
"We hope to create a fresh and lively image of modern xam, so that it is closer to life and somehow meets the present demands for entertainment. Everyone can see several interesting features hidden in our traditional arts."