The A Rem ethnic minority group in the central province of Quang Binh welcomed a joyous Tet Lunar New Year, having received much support from the people and the state.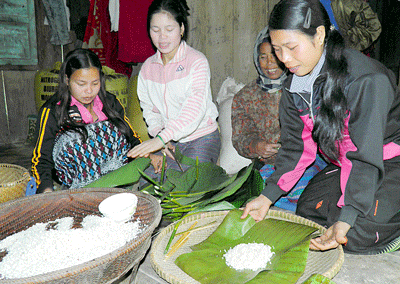 An A Rem woman making Tapeng Arua cake for offering to ancestors during Tet Lunar New Year ( Photo: SGGP)
Each household of the A Rem indigenous ethnic minority community received a kilogram of pork, tobacco and tea along with warm blankets and each person received one eight kilogram glutinous rice cake for the Tet festival.
Dinh Rau, a highly respected elder of the ethnic community blessed the offerings saying: "The good people of our country have given the A Rem people rice, tea and blankets, may God help and support such good people."
In the middle of the A Rem village, the country's national flag flapped in the wind. 75 houses of the A Rem community hoisted the flag.
Dinh Dan could be seen whittling a piece of bamboo for wrapping up   a Tapeng Arua-a traditional cake of the A Rem people.
The cake resembles the stuffed sticky rice cake but is smaller. It also has a square shape, symbolizing heaven and earth according to the traditional A Rem people. In the old day, ancestors of the A Rem community made the cakes as offerings during weddings as they gave the highest value to rice and hard labour.