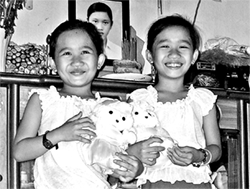 The twins Hoang Thi Cam Phi and Hoang Thi Cam Van in their home in the Hung Hiep village

Like Pleucadeuc in France, Hung Hiep village in the southern province of Dong Nai is called the "village of twins" because it is home to so many twins. Many believe that well water in the region is the reason for the large amount of multiple births.

 
Not like any other
At first glance, Hung Hiep village, 65 km from Ho Chi Minh City, is much like any other village in the Dong Nai province.
But a closer look might reveal that quite a few of the village's inhabitants look similar and are the same age. This is because Hung Hiep village is home to amazing 52 pairs of twins.
Mrs. Nguyen Thuy Thong, the mother of boy twins aged 10, said, "When I was pregnant, I dreamed that I would give birth to boy twins, I saw them many times in my sleep".
Both of the children grew up rapidly and are now in good health, she said.
Multiple births have been common here since 1990, and a particularly strong surge occurred from 1995 to 1998. No one is quite sure why, but there is even one area in which three consecutive houses on the same street are all home to twins.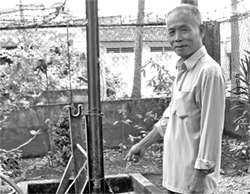 Mr. Bay Thuong points at his well which contains magic water that give twin babies in the village
A magic well
People in the region, including many parents of twins, have all used water from the well in the home of an old man named Bay Thuong.
The rumor currently circulating is that the well contains magic water that gives twin babies to those that drink it.
Dozens of couples turned up in droves to have a look at the twins and to ask for a sip of water from the miracle well.
Bay Thuong, 77, owner of the twin birth well, said that the well was dug in 1975. The water was so clean, pure and sweet that many families lined up in front of his home to have some.
In the region, the farther you travel from the well, the lower the twin birth rate drops.
To date, international researchers have not been able to explain the abnormal phenomena in the village.

Nguyen Giac Phuc Hai, a well-known researcher speculated that water, climate and soil might be the reason for the blossoming of twins in the village.