One of this year's Young Citizens of Ho Chi Minh City is a blind computer teacher named Phan Thuy Phuong. There was a time when the thought of even touching a computer would have been beyond her wildest dreams, let alone using one, but that was then.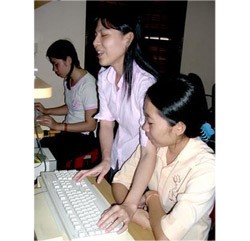 Phuong (stands) instructs her blind students
Now she is as adept as anyone with the machine and teaches this skill to people as handicapped as her.
'Phuong' means 'flamboyant' and describes the trees in every schoolyard when they erupt in a blaze of orange in the summertime, but its namesake never saw this flower because when she was three, she lost her sight.
Had her family been richer and taken her to the hospital rather than the quacks, the hives that eventually blinded her might have been treated.
She got used to the darkness. She was too young to understand fully but was all too aware of her misfortune.
When she reached school age, Phuong started the first of her many years at a school for the blind in her home province, An Giang next to the Cambodian border.
In 2003 a magical opportunity presented itself when Phuong alone out of all the blind children in An Giang was chosen to attend the Sao Mai Computing Center for the Blind in Ho Chi Minh City's Tan Binh District, along with four others from the south.
It took her two weeks to get used to the computer keys and remember their relative positions. What was far more difficult was comprehending English, a language utterly alien to her up until then.
There were other barriers to overcome too. Needless to say, the blind have much more difficulty than sighted people in learning how to use a computer.
Her interest grew day by day. The first sheets of texts were formed and the notions of Windows and instructions slowly became commonplace.
After completing the course, Phuong was the only person at the center to win a teaching appointment there.
She has been in Ho Chi Minh for four years now and her happiness doubles with each passing day.
There are usually two or three students in the special class Phuong teaches. They are the same age so, besides learning together, they can share their dreams and aspirations and help each other overcome their disability.
Phuong is furthering her studies with a stint at university so that she can pursue her vocation, her true calling, to teach computer skills to the less fortunate members of society.
As she said; "I have received a lot from life, now I'm giving back something in return. That's how you double happiness."
Phan Thuy Phuong's selection as a Young Citizen of Ho Chi Minh City is a fitting tribute to her courage, tenacity and dedication.