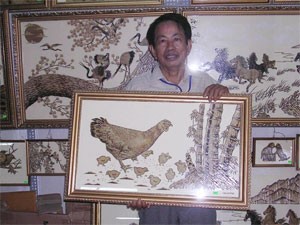 Mr. Vo Van Tang and one of his palmyra pictures
Looking at the beautiful pictures, it is hard to believe they are made from leaves of palmyra trees that grow plentifully in An Giang Province in the Mekong Delta. The artist who creates them is Vo Van Tang, 61, a local amateur.


Despite being keen on painting from his early childhood, Tang went to the University of Economics instead of art school since, he explains, painting did not offer a livelihood.
After graduation, he went into banking and rose to head a branch of the Agricultural Bank in An Giang. Despite being busy with his work, he continued to paint whenever he had some time and was always on the lookout for unusual fabrics and materials to paint on.
When he visited a poor Khmer family in Tinh Bien Ward that made fans from palmyra leaves to assess its creditworthiness, Tang was attracted by the beautiful colors and durability of the leaves. An idea immediately flashed across his mind: "Why not try to make pictures using these leaves?"
He brought home some leaves to test their durability. Two years later, they appeared intact with their original color remaining unchanged.
He immediately decided to use palmyra for his painting. He went back to Tinh Bien to buy tender leaves from trees aged more than 20 years, dried them in the sun, and classified them by color into three groups, yellow, dark yellow, and white.
He cut the leaves into small pieces and patiently inlaid them on a sketch he had done on a sheet of plywood. He then used a soldering iron to burn the inlaid leaves, in this way 'drawing' burnt lines on the leaves as part of the picture. He finally spread a thin film of polyurethane oil on the picture to protect the work from mold and fungus.
Mr. Tang completed his first palmyra work, "Flock of birds perched on branches", in 1998 and was hailed by his colleagues and friends.
Buoyed by the success, he decided to create more such works. His pictures depicted landscapes and mundane images from his own hometown -- the roof of a normal village house, the river, wharfs, banyan trees, bamboo fences, children, cranes, the temple all featured.
Tung's reputation spread and he began to receive commissions from customers throughout the country. His studio now produces an average of 100 pictures of different sizes every month, with prices ranging from VND50,000 to VND 5 million.
Tung's pictures actually feature only two main colors -- white and the color of sunlight in the late afternoon. But they are soulful yet lively, possibly why they have made their way into elegant living rooms of overseas Vietnamese and even foreigners living on the other side of the world.