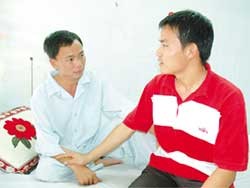 Lieutennt Nguyen Quang Anh in 30/4 Hospital
Senior Lieutenant Nguyen Quang Anh told us about his work and how he got AIDS.
There were two prisoners with AIDS. One of them, Bui Van Phu, smeared a sharpened rock with his tainted blood then cut Anh when he came near.
The other, Nguyen Hoang Vu, gave Anh an imploring look because he felt sore after beating his head against the wall. Anh covered the wound with his bare hand without thinking about the risk of infection. The two prisoners later died of the disease.
A love story
After completing his military service, Anh volunteered to work at Penitentiary Z30D and was trained as a nurse to care for the prison's 100 staff and 1,000 inmates.
Since then he has worked from six in the morning until well into the evening, and sometimes spends nights in the infirmary waiting for the ambulance to transfer the dying to hospital or saying farewell to the prisoners who are dying of AIDS and closing their eyes after death.
Sometimes the dying plea for a cigarette and Anh has to ask around for that final smoke; others beg him to send a message to a close relative saying how much they miss their mother or love their 10-year-boy.
Some shed tears and say a final "Thank you" when he gives them a hug before they pass away. Anh has done such acts of mercy hundreds of times.
Four years ago he met and married a high school teacher named Bui Thi Hau. Together they walked along the streets past wild flowers at the foot of May Tao Mountain. A small tenement house became their home.
But the happy days soon passed.  In 2004, they were awaiting the birth of their first child when Hau experienced labor problems and had to go into April 30th Hospital.
Since she had hepatitis C and might have needed a caesarean, the doctors asked Anh for a blood test in case his wife had to have a transfusion.
But the results of the first test were unclear, so the doctors tested their blood again. As a nurse with 10 years' experience, Anh felt uneasy about what the tests might reveal.
Tragedy struck three years ago when the doctors announced they both had HIV. Anh sank down and wept silently, and the doctors felt too embarrassed to say any consoling words.
After a sleepless night, he decided his wife should have a caesarean to reduce the risk of infecting their baby. His and her families knew the full story, but Hau wasn't told she had HIV.
Anh felt wretched for transmitting the fatal disease to his wife, and she couldn't help but notice his misery.
Still, it was only by chance that she heard the terrible news. She was so stunned she could not cry even one tear; she simply asked her sister to look after the baby for a while.
At first Anh did not realize his wife was thinking of suicide, and for both of them. Then, at the moment of their deepest despair, they decided to end it all together.

She died but Colonel Ho Thanh Dinh noticed that Anh's body was still warm and managed to save him.
After 10 days in a coma, he woke up in hospital. His family and friends made him understand that he had to live for the sake of his baby daughter Ha An, who had just lost her mother.
An alive martyr in Prison Z30D

Ha An, who had spent 18 months in Tam Binh Orphanage, is ill for lack of a mother's care. Her premature birth didn't help either.
It's difficult for Anh, trying to raise Ha An and cope with AIDS but he is a soldier and feels he must soldier on.
He continues his nursing job and walks with his daughter along the same roads he trod with his wife. His colleagues feel sorry for him.
When this reporter from Sai Gon Giai Phong paid him a visit, he was faring poorly and receiving treatment at April 30th Hospital but talked proudly about his growing daughter. "She can sing so many songs even though she's only 26 months old. She is not infected with HIV."
Anh plans to send Ha An to his family so that she will not miss her father after he is gone.
When bidding farewell, this reporter felt heavily indebted to Anh and to the soldiers who keep the peace for everybody.