Artisan Le Ton Muu has been known as "Mr. Bamboo Dragon" for 28 years, by local people of Son Binh Commune in the mountainous district of Huong Son in Ha Tinh Province.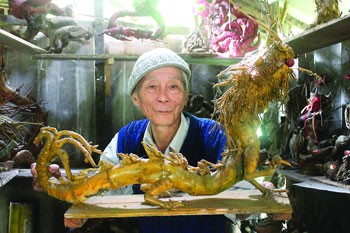 Artisan Le Ton Muu with one of his bamboo dragon creations. (Photo: Sggp)
The 87-year old artisan has made nearly 1,000 bamboo dragons in various forms for many years.
He was teacher at the Agriculture University No.2 and retired in 1981, and was soon introduced to the art of making handicrafts. In his spare time he observed many rich people looking for expensive handicraft products to decorate their homes and choose gifts for friends.
He went to famous artisans in Ha Tinh and Nghe An Provinces to learn the trade. He said that making bamboo dragons is a special kind of traditional art. The main materials for the craft can be found everywhere, in the villages of Vietnam.
The artisan has traveled extensively to look for branches, trunks and roots of bamboo plants to shape into a head, beard or tail of a dragon.
Shaping the bamboo plant into a dragon is not easy. The artisan has to first imagine how to create the design and then bend the plant lightly, skillfully and very patiently, so as not to crack it.
Bamboo can break and crack if not painstakingly handled.
Muu's art works have been displayed and sold for anything from   VND100,000 to VND 5 million in Kim Lien and Huu Nghi hotels in Nghe An Province. They have attracted many foreign tourists.
He has made all efforts to produce special dragon products for the Northern Central Region Fine Arts Exhibition 2012.