Artist Phan Hai Bang, who created a very special type of paper called truc chi, is now working with his team to bring back what he calls "old values" in a really big way.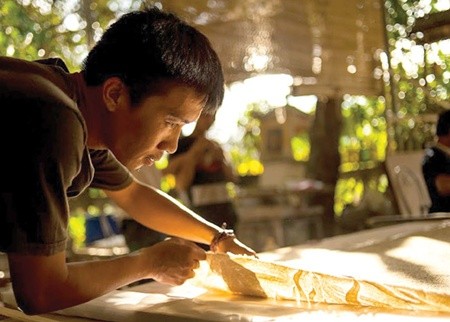 Artisan Tran Quang Thang works on a truc chi painting at Truc Chi Garden in Hue. — VNS Photo Le Huy Hoang Hai
Once he succeeded with the first step, there was no holding the artist back as he pursued his dream of breathing new life into crafts that he believes are uniquely Vietnamese.
In 2002, after years of researching and experimenting, Bang began trial production of truc chi, paper made from bamboo pulp, using techniques that resembled the way the Vietnamese paper "poonah" was made.
Each sheet of the paper can stand alone as an art work, thanks to a graphic design that is added at the end of the production stage.
The paper has inspired the creation of many other artistic and daily-use products that use it as the raw material, like lanterns, wallets, candle boxes, handbags, wall paintings and table calendars.
In 2012, the paper made its market debut as an ornamental item. Since then, it has gained popularity among art communities in the country as well as France, Belgium and Thailand.
Earlier this year, graphic design artists, who are also lecturers at art colleges in different parts of the country, gathered in Hue for a workshop to discuss ways to further develop local art forms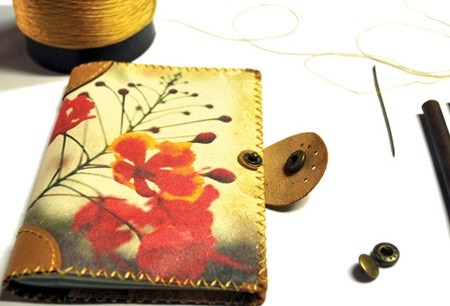 Ornamental flower: Passport cover, a new product line in Truc Chi Garden in Hue. — VNS Photo Ngo Dinh Bao
They learnt about new printmaking techniques that could serve their work, including book art, printmaking installation, truc chi papermaking, non-toxic lithograph, and gumprint.
The popularity of truc chi was evident at the workshop, with most participants – veteran artists to young students – choosing to learn the technique of making it.
Le Huy Tiep, former president of the art committee at the Viet Nam Fine Arts Association, said truc chi was one of the most inspiring contemporary art tools that he found.
Le Anh Phi, a student of the Hue College of Art, said, "truc chi gives me a bright outlook for a future career in art".
Several artists have recorded notable achievements with the paper. Phi and Ngo Dinh Bao Vi, two members of Bang's Truc Chi Garden team, won encouragement prizes at the national Young Artist Symposium held in Ha Noi last August.
Phi used truc chi and graphic prints for his work called Ky Uc Lang Que (Countryside Memory) and Vi did the same for her installation called Vi Tinh Yeu La Du Cho Tinh Yeu (Only Love Can Feed Love).
Nguyen Hong Phuong, a workshop participant, won third prize at the Capital (Ha Noi) Art Prize contest this month, also using truc chi and graphic prints.
Despite the paper's popularity, Bang said he is at the first stage of his dream. "My team, including Vi and Phi, need to do more to realise the entire dream that I call it 'A plus to the return'," he said.
"My dream is to unite artisans who weave bamboo and make paper pictures, hand fans, bamboo lanterns, kites or embroidery with me, a truc chi producer, to create Vietnamese craft products that amaze foreigners with their artistic values and outstanding craftsmanship.
"In the short-term, the union could benefit craft villages that fight on their own for revival. The paper could attract new consumers and give the craft new markets.
However, it appears as though artisans in traditional craft villages around Hue and Hoi An have not been able to meet the main requirements of Truc Chi Garden. Bang, Vi and Phi have had to make themselves artisans in bronze, bamboo, wood and leather processing.
While Vi spends several hours a day cutting leather and sowing by hand to create truc chi wallets, Phi works on cutting and carving tiny bronze items for jewelry box locks, painting frame holders and placing truc chi markers on each product.
"We do not blame artisans of the craft village, we understand that they have to follow market demand, but we want to preserve the skills and techniques that our ancestors had," said Vi, explaining that no truc chi product is mass produced.
Bang said that he wants at least one piece of value from a traditional craft or culture on the products. A lantern, for instance, can have patterns of bai choi, a traditional folk game or musical instrument found in traditional paper paintings of Sinh Village in Hue.
A bamboo bookmarker, for example, can be shaped like a xam huong card, which is used for a traditional royal game.
"What we want is to revive our ancestors' skills in another form and style, so that with new artistic values. So the new values is added (plus) to the return of old values," said Bang.
"The entire dream is that unique Vietnamese crafts are alive in the modern world."