Of 14 applicants under consideration for the eighth Ton Duc Thang prize, Ngo Hoang Danh has made great contribution to sustainable development of the Saigon Tax Trade Center after only five years of working there.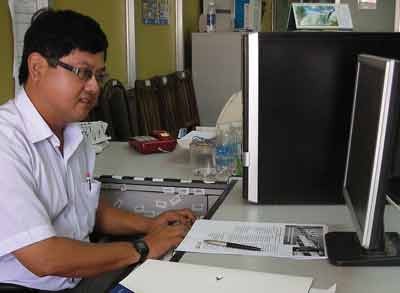 Computer engineer Ngo Hoang Danh at his office
Realizing that the family is too poor to support his studies, Mr. Danh tried to get a scholarship for the Ho Chi Minh City University of Technology. After graduation, he was admitted to Saigon Tax Trade Center.
There were many problems with the accounting computer software. Right after he accepted a position at the center, he re-wrote the software to save over US$3,000 for the company.
Once a quarter, the center makes an inventory, but the quality of goods do not always match with papers, perhaps because of stealing or due to a fault in the bar code. As a result, the center must halt business so that employees can spend a day redoing inventory.
Mr. Danh designed the software in which sellers put a goods' bar code in computer then multiply. Mr. Ngo Hoang Danh saved US$2,500 with the new software not including the turnover increase that resulted from not halting business to redo inventory.
In five years of work as a computer engineer, Mr. Danh has made a great contribution to the growth of the Saigon Tax Trade Center, increasing the competitiveness of its management.
Related article:
Love of Workers Sparks Inventions