Many foreign visitors are charmed by the bamboo paintings sold along Ha Noi's souvenir streets like Hang Gai, Hang Bong, Hang Trong, Hang Manh and Ta Hien.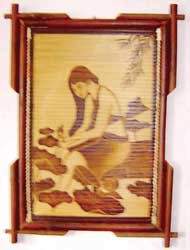 A bamboo painting is created by Mr. Xuan.
Nguyen Kim Xuan, who owns a studio workshop in Mai Lam Commune in Ha Noi's Dong Anh District, is considered the father of bamboo painting and has created more than 500 pictures in a lifetime of devotion to the art form.
His subjects of his exquisitely detailed paintings range from enchanting scenery and symbolic animals to daily life on the farm.
Mr. Xuan also draws inspiration from the famous Dong Ho folk paintings of the country's north and likes to use typical Dong Ho images in his work.

After many years of making bamboo paintings, he is most proud of the method he devised for changing the color of natural bamboo. His unique process is regarded as the most difficult part of making a bamboo painting.

Xuan says there are three steps in making a bamboo painting: design, setting the draft and manufacturing. At every stage the artist must be patient, meticulous and passionate about the work.
Today, bamboo pictures are ideal gifts for conveying the essence of Viet Nam's spiritual life and culture, according to Xuan.