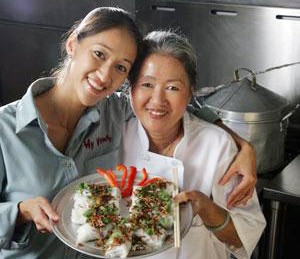 Lyn and Tung Nguyen stand in the kitchen of the Hy Vong plant in Dania Beach.
It began as a story about making a new start in a new country.
Mrs. Tung Nguyen, 27, left Viet Nam for the US many years ago. She didn't know where it was going or what would happen to her when she disembarked.
Several lucky twists later, Tung arrived in Miami.
She gave birth to a daughter, Lyn, and, along with her sponsor, Kathy Manning, opened Hy Vong, a beloved, if incongruously located, Vietnamese restaurant on Little Havana's Calle Ocho in 1980.
Lyn grew up at Hy Vong, doing homework beneath the tables and learning math games from customers.

She excelled at Coral Gables Senior High, won admission to Harvard, went on to earn an MBA from Cornell and moved to New York to work for a high-powered investment-banking firm.
''Being single up north, I never cooked for myself -- I always ate out,'' Lyn said. ``I got sick of everything tasting the same, and I realized that if I was having that problem, other people were, too.''

A business plan formed in her mind: Why not expand Hy Vong's scope by selling her mother's specialties at gourmet markets?
After all, the restaurant had a devoted following, customers willing to wait an hour for a table and another hour while Mrs. Tung cooked their meals to order.
Heat-and-serve products would make Hy Vong an option for the time-pressed and give it a piece of the growing market for high-end takeout.
In November, Mrs. Tung began making Hy Vong's most popular dish, dumpling-like rolling cakes, in a small plant in Dania, just as she does at the restaurant.
She ladles rice-flour batter onto a piece of cloth stretched taut over a pan of boiling water, smoothes it into a disc and, a minute later, removes the delicate, paper-thin pancake to a platter. She places several pinches of a pork-mushroom mixture in the center and quickly folds it into a roll.
Then comes the catch -- rather than putting the roll on a plate and sending it to a hungry customer, Mrs. Tung places it in a plastic to-go container that's popped into a refrigerator to await shipment to a grocery store.
Gardner's Markets were Hy Vong's first retail outlets. ''It's one of our favorite restaurants, so it was very natural for them to come to us and ask us to help them launch their new line,'' said Susie Franco, director of Gardener's food and wine program.
''The line is selling great in all of our stores,'' Mr. Franco said. ``The restaurant has a great following -- people see the food, they recognize it and they buy it.''
Rolling cakes, with pork or beef filling, will be joined this month by beef and rice noodle soup, pumpkin soup, vegetables with noodles and shrimp on sugar cane, with more retail items in the pipeline. They're priced at US$6 to US$7 a serving.

Hy Vong's success, from the restaurant to its nascent to-go line, begins and ends with Tung's talent. She learned cooking fundamentals from her grandmother in Vietnam, but most of her dishes are products of her innovative palate.

Take her rolling cakes, known as "banh cuon" in Vietnam. For all the critical acclaim Mrs. Tung's cooking has received over the years (including a brief interlude in the '90s when she left Hy Vong to open her own place), Lyn remains her mother's biggest fan.

''The food is so special -- it's almost an ethereal experience,'' Lyn said. ``You get this unique mix of flavors in your mouth, and at the end you feel full, but you don't feel like you've gained 10 pounds.''

In keeping with Lyn's vision of healthful meals-to-go, the meat used in Hy Vong Heat and Eat Delicacies is all-natural and the vegetables are organic.
No preservative are added, which means items should be eaten within several days of production. Lyn sees that as an asset.
''People have become much more health-conscious,'' she said. ``They do not want food with long shelf lives because it has probably been heavily processed.''
Right now, Mrs. Tung or a handful of closely supervised assistants prepares all of Hy Vong retail products.

The plan is for her to train a staff for the Dania plant so she can focus on the restaurant -- a challenging proposition.
Lyn and Kathy are focused on quality control, too, monitoring prospective takeout products to determine how long it's safe or desirable to leave them in stores.