Wearing beautiful clothes, creating tasteful drinks in luxury joints like bars, hotels and restaurants  and receiving a high salary is what people's impression is of a bartending job.However, in reality, very few people know that a bartender faces stiff competition and has to work very hard to survive in this field, often sweating guts out to achieve the required results.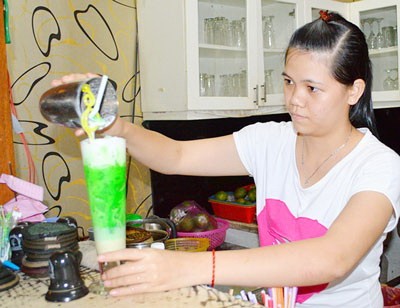 Ngoc Yen works in a bar in Phu Nhuan District (Photo: SGGP)
Nguyen Thanh Sang still cannot believe that he has now a stable job along with a salary of VND5 million a month. Being an orphan, this 20-year-old young man has struggled hard in life to become a capable person and independently support himself. 

He says that when he was a little boy, his parents were arrested and he was transferred to the orphanage where he lived for 10 years and later was moved to a village in Thu Duc District in Ho Chi Minh City.
Luckily, he had an opportunity to learn his skills in the orphanage and then in the village as a teenager.
A high school graduate, Sang sat for his university entrance examination but failed.
Hearing about a career as a bartender, Sang applied for the course and fortunately was selected. He loved this profession and never missed a single class and also spent a lot of time creating an assortment of drinks. When he graduated from the course, he was ranked 8th among more than 100 students.

He was soon offered a job at a bar in a coffee shop in District 10 on a salary of VND3.5 million. Later, he applied for a job in a restaurant in Thu Duc District for a higher salary, which was near his house. He worked there as a manager of a wine cellar.
After several years of working in restaurants and coffee shop bars, Sang felt he had enough experience to open his own shop. A few years later he went into partnership with his friends to open his own place.

Dai Ngoc Yen is another example. After graduating from high school, she decided not to continue her studies but find work instead, due to her family's poor economic condition.  Once she began searching on the Internet for jobs, she knew the job of a bartender offered a start up program providing free teaching for young people from disadvantaged families, and she quickly applied for the class.
She said that in fact she did not know what bartending was but because the program was with an assured job she decided to choose it to support her family.

In addition to learning career skills, Yen and her classmates were taught about orientation of the career and behavior when working in bars, restaurants or hotels. In fact, she disliked making coffee by machines as it is very hard to learn and the salary is lower than bartending, yet teachers said that as a woman and to have a stable job, people should learn these skills.

Even when she graduated from bartender class, she did not think she would take up the job in the future as she did not really love this profession. But, her life changed once she met a holidaymaker in a shop in Nguyen Hue Street. The foreign visitor looked sad, so Yen made a coffee glass with the face of a bear on it to make the visitor smile. He later wanted to express his appreciation for her gesture and say thank you. At that moment, Yen said she understood what her teacher had said before the start of her career that these glasses could bring happiness to others and that there is joy in this career.

After one year of doing a bartender job, Yen really loves her work and the new experiences she faces every day. She has also received a promotion to become a manager with a higher salary. She said her career is very simple, just after three month of learning, you can earn VND3 million at a bar, restaurant or hotel and if you have the love for bartending, you will make progress in the career and earn a higher salary for sure.
Bartender job is in vogue among young people
Restaurants and hotels are mushrooming in the country. Along with them is the need for good bartenders and the career is turning out to be "hot job" among young men. Career start up programs for bartenders was launched by Pernod Ricard Vietnam with an aim to providing young people from disadvantaged families to have stable jobs and skills in this field.
Started in 2011, nearly 100 young people have received free training as bartenders and have stable jobs in bars, restaurants and hotels in Ho Chi Minh City. This year the program organizers said they will combine with Nguyen Truong To Vocational College to provide training to 100 young men from open houses, orphanages and from disadvantaged families.