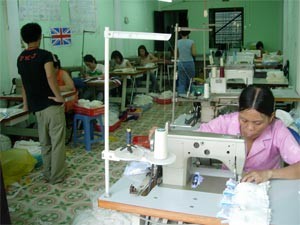 Working at a textile factory (Photo: Hoang Uy)
On the occasion of International Women's Day (March 8), a ceremony was held yesterday at the Labor Cultural Palace to honor industrious women from across the nation. Many of the chosen honorees work as laborers in the textile industry, in particular the garment and footwear sector. Here follows three of their stories:
"Busy Bee" Hoang Thi Sao Mai
Brought up in a very poor family in the central province of Quang Binh, Hoang Thi Sao Mai had to quit her studies in order to start work at the Truong Loi shoe factory in Ho Chi Minh City.
Thanks to dexterous hands and a diligent work ethic, Mai was promoted to the company's sample team. Her colleagues call her "an industrious bee". As a rule, Mai passes on most of her US$100 monthly salary to pay for her two younger sisters to go to school.

Since they are now moving on to university, Mai's burden is becoming even heavier. But she is still optimistic: "I could not complete my studies, so I wanted my sisters to have the chance instead. I will make every effort to sponsor them until they graduate. For my part, I will do my best to improve my skills in order to prove that people without university degree are still useful".
Earlier this year, Mai became a member of the Communist Party. At 24 years old, she is the youngest communist at the Truong Loi Company.
Overcoming obstacles in life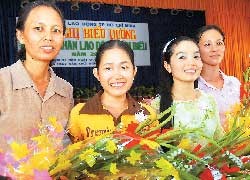 From the left: Nguyen Thi Thu Thuy, Hoang Thi Sao Mai and Vo Thi Le Thanh
Nguyen Thi Thuy has taken care of her two babies since her husband left them 12 years ago. As a young mother with little formal education, she took on some tough jobs including farming and weaving baskets.
In 1997, she applied to work in the Dae Woong plush toy factory. After 10 years, she was promoted to forewoman of more than 250 employees. Thuy's technical innovations while working there brought her a merit award from the Ho Chi Minh City People's Committee in 2004.
At present, the three member family is living in a 20 square meter house.
Adding quality to the workplace
After her husband died in a traffic accident five years ago, Vo Thi Le Thanh, then 21 years old and the mother of an 8-month old child, went to work at the Sam Ho Footwear Company.
It was a tough way for a young mother to make a living but after two years, with little work experience, she managed to spearhead more than 100 quality improvement projects, making the company run more efficiently.