Facing your own legend must be the hardest job in the world – harder than becoming a legend. Some try to please the crowd by imitating the legend; others try to go the opposite direction and ignore the legend – and many have failed attempting either. Bob Dylan attempted neither – he simply sauntered onstage in a long dark suit trimmed in dark silver, a purple silk shirt with silver bolo tie and a white Mississippi riverboat gambler hat – and had fun with his songs and his musicians. His band featured two guitars, bass, drums, pedal steel guitar and a touch of trumpet and made music to fill the entire night.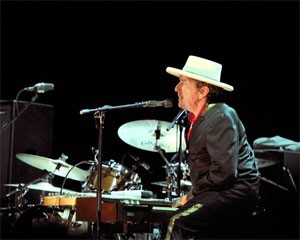 (Photo:Vnexpress)
Perfectly at ease with his material – and not even bothering with the legend – Dylan performed 18 carefully chosen songs that spanned 45 years of his career. They were beautifully arranged and flowed seamlessly through the two hour-plus set. This was not a rock 'n' roll – he can do that, he can smash it out for two hours nonstop – this was a different turn.
These were powerful yet restrained arrangements, more lyrical than loud, more contemplative than crashing. Yet there was nothing formulaic about the songs. Dylan's band, attired in sharp grey suits with black shirts and black hats or berets, performed them with all the joy and expressiveness as if it were the first time they'd brought them to the stage. Fronted by ace Texan lead guitarist Charlie Sexton, who played as if he had a tornado coiled inside him, they were effortlessly tight, fluid, intense, like a jazz band performing a blues set. There was a touch of reggae here and there, and they saved the rock 'n' roll mostly for the last few numbers of show; for the most part this was elegant music perfectly matched to Dylan's elegiac lyrics.
Dylan himself spent most of the show at a small keyboard, occasionally strapping on a Stratocaster or pulling out a harmonica for some exquisite harp blowing. He sang in a musing, almost wistful manner that brought a new sensitivity to his songs. One Vietnamese audience member murmured, "I love how he's singing – it's like he's talking personally to us."
That's all Dylan needs to do. He doesn't issue press statements, he makes no announcements from the stage, doesn't wave flags or tell stories or try to explain his songs.
He doesn't need to. His entire message is in his songs – all one must do is listen. He opened with a driving "Gonna Change My Way of Thinking" that had everyone enraptured. As it ended he immediately segued into a number that addressed all the expectations surrounding this show. For this was the first time Dylan has performed in Viet Nam, and many inside the country expected him to sing the songs that had made his international reputation, and many outside the country expected him to sing the songs that would satisfy their personal political agendas. So, "It Ain't Me, Babe," he sang. "I'm not the one you want, babe/I'm not the one you need/You say you're looking for/Someone who will die for you and more/…it ain't me you're lookin' for, babe." Message delivered.
For the next two hours he alternated between material from his three most recent albums, which made up nearly half the set, and delightful glimpses from the past. There were the intense, powerful "Love Sick" from Time Out of Mind (1997) and "The Levee's Gonna Break" from Modern Times (2006); the driving "Jolene" and the wry "My Wife's Home Town" from 2009's Together Through Life; Modern Time's sprightly "Spirit on the Water" and the playful "Tweedle Dee & Tweedle Dum from "Love and Theft" (2001). Amongst them Dylan delivered a lovely "Tangled Up in Blue" and a heartrending version of "Simple Twist of Fate," leaving anyone in the audience that possessed a heart and ears in tears.
For those who came for a message or a profound statement, there was "A Hard Rain's A-Gonna Fall," with Dylan phrasing the apocalyptic lyrics as if he were inventing them on the spot. And one of the best numbers was a pounding, joyous "Highway 61 Revisited." Throughout, his band, wringing with perspiration, their eyes riveted on the singer to catch any nuance he wanted to add this evening – for Dylan never does a song the same way twice – drove the songs home with passion and precision. The Texas blues of Together Through Life's smoking, yearning "Beyond Here Lies Nothin'" said it all for the evening – it was all on the stage and in the crowd and no one could remember or imagine anything else.
He finished the show with a jaw-dropping "Ballad of a Thin Man," quintessential Dylan, a lip-curling sneer at the clueless and false. And if you didn't get the point, he came right back with "Like a Rolling Stone" in the encore, yet another attack on the clueless and false. "How does it feel/to be on your own/with no direction home/a complete unknown/like a rolling stone/How does it feel?" Next came the disturbing, mysterious "All Along the Watchtower." By now the audience was hoping for the screaming, soaring guitar solo from Sexton that the song has demanded ever since Jimi Hendrix put his own stamp on it, but the band stuck to their restrained style throughout.
Dylan's final message was to remain "Forever Young" – "May you grow up to be righteous/May you grow up to be true/May you always know the truth/And see the lights surrounding you/May you always be courageous/Stand upright and be strong/And may you stay forever young" and then he was gone.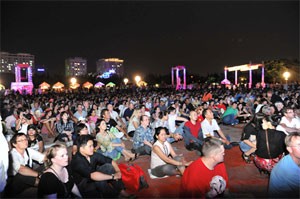 (Photo:Vnexpress)
Approximately 5,000 attended the show and it was controversial before, during and after Sunday [Apr 11th] evening's performance. Coupled with a tribute to legendary Vietnamese composer Trinh Cong Son, the promoters, Saigon Sound System and Thanh Nien Media Corporation, hoped for a large turnout of Vietnamese. However, due to the very late booking of Dylan, there was not enough time to thoroughly promote the show. While the sound system and logistics were immaculate, there were complaints about the high ticket prices ($50 general admission, $120 VIP), and the parking situation on Nguyen Van Linh Boulevard in front of the venue was chaotic. But this was truly the first appearance in Viet Nam of a major Western music artist, and all involved must be commended for their generally outstanding work.