Although it was her first time taking part in the National ParaGames in Hue, 18-year-old Nguyen Thi Nhan, won the gold medal for high jump on July 22. Her older brother, Nguyen Dinh Huong, won gold in the men's high jump competition in the 2006 Asian ParaGames; both of them were born blind.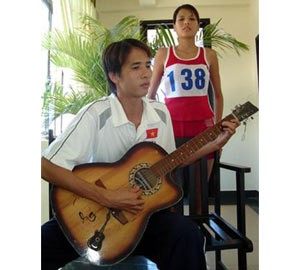 In congratulating his younger sister's victory, Huong plays a piece of classical music for her

Nguyen Dinh Huong has been practicing high jump for four years and has already won gold medals in the National ParaGames in 2003, 2004 and 2005. In 2006, he also won gold in the Asian ParaGames.

Nguyen Thi Nhan only took up the sport last year when her brother suggested it to her. The two of them are both athletes of the Ha Noi team and Nhan admits that without her brother's assistance and guidance, she would not have been able to achieve her success in such a short time; "My ambition doesn't stop here. I am going to practice harder so that I can take part in international competitions. My dream is to bring more medals to my country," she said.

Both Huong and Nhan live a life of complete darkness and playing sports is their way to help them go beyond the darkness of their own life. Their disabilities mean that they have had to strive harder than any ordinary person to reach their goals.

Nhan said, "When I heard that the gold medal was mine, I immediately thought of my parents, my brother and cousins; it was their love and encouragement that helped me in my success."

According to Huong and Nhan, their mother fell ill 17 years ago from exhaustion; all the members of the family now rely on the small salary of their father. Huong said, "I used to be a student at the Ha Noi Conservatoire, but I'm now trying to teach myself since I can't afford the monthly tuition fee of VND 300,000."

In congratulating his younger sister's victory, Huong played a piece of classical music for her, he wishes to continue pursuing his music career as it will help him to earn a living once he is too old to continue playing sports.

The winning siblings have filled their parents' hearts with happiness and pride, and no doubt their modest competition bonuses will help to relieve the family's financial burdens.