More than 200 static and suspension bridges have been built thanks to the commitment and ability of ordinary people.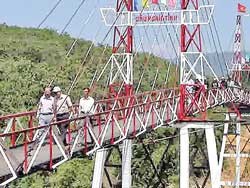 People are walking on Mr. Nam's bridge over the Da Huoai river in Lam Dong province.
On his way back to Ho Chi Minh City after distributing gifts among poor people in Lam Dong Province, Nguyen Viet Nam overheard the other passengers talking about a dangerous river in Ha Lam, a village in Lam Dong's Da Huoai District, and the tragedies it had caused.
The people of Ha Lam had been obsessed with the treacherous Da Huoai River for generations as it had swept away many adults and children. They particularly remembered when a flash flood had taken the lives of two schoolkids wading across.
Mr. Nam was deeply moved by the heart-breaking story. He got off the bus and asked the way to the victims' homes, which were located in a special economic zone created in 1987. After that the villagers took him down to the river.
What he found was a 90-meter-wide river running through fertile country brimming with orchards, a promising land for new settlers. He also observed that the villagers lived on the east bank but farmed the land on the other side.
Since there was no bridge, the people had no choice but to wade across the Da Huoai to their farms and back every day. Nam told the villagers then and there that he would raise the money to build a bridge across the river.
His efforts to raise the money and find the expertise needed to build a bridge took Nam as far afield as Hoa Phu 2 Hamlet, Chau Thanh District, An Giang Province to meet a certain Thach Van Nhon.
Although Mr. Nhon did not finish elementary school, he is a born engineer who has designed and built excellent suspension bridges. Since 1980, his construction company has built more than 200 strong, aesthetic bridges to replace rickety foot crossings in the south.
Sympathizing with the residents of Ha Lam, Nhon immediately agreed to Nam's proposal to build a bridge as a gift to the villagers, and to not charge a penny for the design or the actual construction work.
It took a month to build the bridge. At the official opening, the excited people of Ha Lam packed the walkway, thrilled with this positive change to their lives and the thought of future prosperity. Seeing the gladness in their eyes was reward enough for Nam and Nhon.
It was not Nam's first charitable deed, not by a long way. For many years he has silently given his time, money and effort to noble causes. He helps build not only bridges but houses for the poor too, and he's a master of fundraising for established charities.