Len Aldis, secretary of the Britain-Vietnam Friendship Society (BVFS), met with more than 200 students at the Ho Chi Minh Student Cultural House on October 25.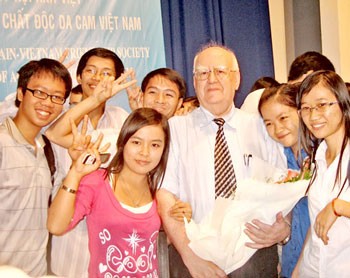 Mr. Len Aldis (C) and students at the HCM City Student Cultural House on October 25.
An advocate for Agent Orange (AO) victims, Aldis has made more than 30 visits to Vietnam over the past 20 years. He has campaigned around the world to educate people about the plight of Vietnamese AO victims, calling for justice.
In Vietnam, Aldis and BVFS members have carried out several humanitarian missions to help AO victims in Ho Chi Minh City, Hai Phong City and the provinces of Quang Tri and Thanh Hoa among others.
He also created the online petition (http://www.petitiononline.com/AOVN/petition.html) which has been signed by millions of people throughout the world in support of Vietnamese victims of Agent Orange Dioxin.
More than four million Vietnamese have been affected by the toxic herbicide Agent Orange used by the US army during the Vietnam War. The effects of Agent Orange have now spread to third and four generations, Aldis said.
The struggle for justice, which began in earnest in 2004, remains ongoing, he added.
Asked by a student why he was inspired to help AO victims, Aldis said he witnessed the devastating effects of AO during his first trip to Vietnam and couldn't stop thinking about it. He then resolved to help victims any way he could.
Another student asked Aldis's advice on gaining justice for AO victims. He responded that young Vietnamese people should make an effort to better understand the victims and their pain, and that this would inspire them to fight for justice.
We cannot stop and give up the struggle, Aldis said. The war is over, but there is still another fight to gain justice for the living and I will dedicate my life to helping Vietnamese AO victims, he added.