The secrets to the longevity of Nguyễn Thị Trù, who just celebrated her 123rd birthday as Viet Nam's and Asia's oldest lady.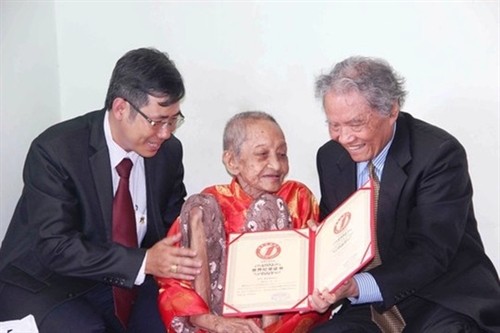 It's official: Trù is awarded certificate recognising her as Asia's oldest lady by representatives of the Vietnam Book of Records. — Photo news.zing.vn
Very few people live to celebrate their 120th birthday. Nguyễn Thị Trù of HCM City has just celebrated her 123rd.
Trù has been honoured with numerous certificates for her record. At the age of 120, she received a recognition certificate as Việt Nam and Asia's oldest lady from the Vietnam Book of Records and Asia Book of Records.
World Records Union - Worldkings, based in India, officially recognised her as the world's oldest lady when she was 122 and last year, the World Records Association accorded her the same title.
According to documents preserved by Trù's family, she was born on May 4, 1893 in Cần Giuộc District in the southern province of Long An. Although she is absent-minded, hard of hearing and unable to move around, she is still smiling frequently when spoken to.
Trù had three sons and eight daughters, but only two are still living and both are over 80. She lives with 77-year-old Nguyễn Thị Ba, her youngest daughter-in-law.
According to Ba, the secret to Trù's longevity is her easy-going and generous character. Her positive thoughts about people help her to lead a peaceful and easy life. Her neighbours attest to her being very sociable and never getting angry with anyone.
Trù's children recount that she used to be a strong and industrious farmer who used to participate in digging tunnels and supplying food for soldiers in wartime. Working on a farm and living close to nature, most of her diet consisted of vegetables planted in the family's garden, one explanation for her rarely being ill.
Nguyễn Thị Đê, 82, her eighth daughter, said that she still maintains the habit of eating and drinking in moderation. She esppecially enjoys eating cakes and fruit and drinking milk between meals.
Living in poverty
Trù lives in a kitchen, probably as old as she is. Its walls are made of various material and sunlight beams in through the cracks on the roof.
"She used to live upstairs with her grandchildren, but it is not convenient for her daily activities and personal hygiene so she moved downstairs to live in this kitchen," said Ba. "Her two living children sometimes drop by and give me some money to go shopping or buy her new clothes."
All Trù's children and grandchildren have led hard lives, working as occasional laborers in making corrugated iron or selling porridge in the market, while some are even jobless.
"Each elderly person in the area, including my mother, receives a monthly support of over VNĐ700,000 (US$33) from the local authority, in addition to support from other relatives, which is enough to cover her monthly expenses," Ba said. "But I do not know when there will be enough money to fix her room."
Trù's recognition as one of the world's oldest people by many international organisations is a source of local pride.
In addition to support from the state budget, several enterprises, hospitals and pharmaceutical companies have visited and supported her with money, food and free medical care.
"I'm even weaker than my mother-in-law when she was 100 years old, but her health has declined dramatically in recent years. There is always one person to take care of her all the time. However, she is very happy and always keeps smiling when she has someone to talk to, though her stories might not be connected to each other. As long as she still sees clearly, eats well and smiles with us, our family has been endowed with great happiness," Ba said.