Nguyen Bao Ngoc's whole world collapsed last year when he was diagnosed with pancreatic cancer.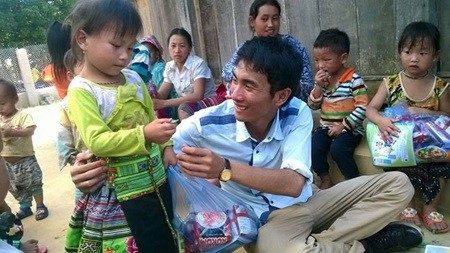 Nguyen Bao Ngoc donates food and clothes to underpriviledged children in Yen Bai province. — Photo courtesy of Bao Ngoc
Ngoc, 24, a student at the Ha Noi-based College of Television, is from a poor village in the central province of Quang Binh.
He felt all his dreams of becoming a journalist after graduation and continuing his charity work are coming to an end.
"I was completely shaken after I heard the news," he said. "I shut myself in my room for a week, torturing myself with negative thoughts and wondering why this had happened to me."
Ngoc said he did not want to tell even his family members about the diagnosis, but the seven days in his room resurrected his soul. He thought about the underprivileged and distressed people he had helped with his student charity programmes.
"I have met many people who are in much more difficult and painful situations than myself. I told them that courage and optimism could help fight any challenge and that giving up was never an option. It was time for me to apply my own ideals," Ngoc said.
Ngoc decided to make his remaining time meaningful by dedicating himself to charity work, but this time, he wanted to do it all by himself, not just asking for financial support from social organisations.
Several days after going through a cycle of chemotherapy, he started to work as a xe om (motorbike-taxi) driver at the Ha Noi University of Industry. All of the money he earned was donated to buy books and clothes for children in the northern mountainous province of Yen Bai.
He let people pay him as much as they wanted. There was no need to bargain. And with the poor, he gave them free rides. He earned about VND30,000-100,000(US$1.50-4.50) a day.
However, constant pain and exhaustion prevented him from continuing his job. "I could not drive fast and sometimes I had to stop for a rest during the ride. As people did not know about my illness, they complained or even scolded me for the bad service," Ngoc said.
But Ngoc did not give in. He launched a campaign called "Hug me, please" soon after, which attracted more than 200 volunteers.
Every two months, they went to several universities in Ha Noi and raised a banner saying: "Hug me, please. And if you don't mind, give me VND5,000. All the money will be donated to underprivileged children in mountain areas."
Last year, all the money raised was used to help poor schools and buy school equipment and scholarships for more than 200 poor students in the northern province of Yen Bai.
Three months ago, with the help of his friends and generous donors, Ngoc opened a small food store selling Quang Binh specialities in Chua Lang Street.
"I use the profits to fund my own charity activities and those for other volunteer clubs in Ha Noi and Quang Binh. Besides, 10 per cent of each bill is spent on clothes, books, medicine and food for mountain children", Ngoc said.
"Using my hard-won money for charity work keeps me satisfied. It makes my life more meaningful and beautiful," he added.
It was not until the discovery of his sickness that Ngoc really dedicated himself for charity work. He joined all charity programmes at the College of Television schools and other channels.
In 2013, before he knew he was ill, Ngoc, along with other volunteers, organised a music event to raise money for flood victims in Quang Binh Province. A total of VND550 million (nearly US$25,000) was collected. The programme was sponsored by Ha Noi Radio Television and several newspapers.
"It was like a dream came true. The donations were much higher than expected. I could not control my emotions and I burst into tears like a child," he recalled.
However, not long after that success, he learned he had cancer. The incident motivated Ngoc to become more involved in charity work.
"Before the bad news, helping disadvantaged people helped me make friends with people of different ages and from various backgrounds," Ngoc said.
"Gradually, I realised that charity work is a serious job which requires passion, dedication and commitment."
Ngoc said that charity work provided him with a sense of fulfilment and lifted his spiritual well-being.
"It is good knowing that you can make a positive impact, big or small, on the world around you. And caring about somebody else's troubles helps you forget your own and adds more happiness to your life", Ngoc said.
To Nguyen Thanh Nga, 28, an office worker, Ngoc is an example of courage and benevolence.
"In the past, I tried to make best use of my time to earn money. But things changed when I learned about Ngoc's story. Now, I am working night shift at his food store for free. Money is no longer my life goal," Nga said.
"Ngoc even had to sell his own laptop to pay medical expenses but he never thought of using the donated money for his own. He has such a golden heart," Nga said.
Phan Van Than, 32, the secretary of Nguyen Trai High School's Youth Union in Bo Trach District, Quang Binh Province, praised the precious gifts that Ngoc brought to the mountain school - his strength to fight and his courage to live for other people.
"He offered me and my students invaluable lessons in optimism and persistence.. He showed us what hope could do", Than said.
Many of Than's students drop out of school as they face many difficulties. Most have to work in the fields at a young age to help their families. Some are orphans with hardly enough to pay for food and clothes, let alone money for school fees.
Some have to travel 20 kilometres to get to school.
"Ngoc not only brought them material gifts, he also convinced them to come back to school and fight for a brighter future. He told them to turn their difficulties into energy for their life's journey."
Nguyen Thi Huong, 30, said her son, who suffers from blood cancer, had maintained a strong fighting spirit thanks to Ngoc's advice.
"Ngoc makes my son believe that as long as he does not lose hope, anything is possible. Faith helps my son defeat pain and the feelings of hopelessness. It is really good to see the smile on my son's face again", Huong said.
Ngoc remains positive, hoping that advances in medicine will one day free him of his disease. "Although I suffer every day, I feel I have already won the battle as cancer can only affect my physical abilities, not my soul, my mind and my heart," Ngoc said.
"To me, cancer is just a word, not a death sentence and it cannot prevent me from leading a meaningful life," he said.