Many disabled people have become shinning examples of inner strength and determination in overcoming their disabilities to achieve impossible missions. Le Thi Tham, a girl born with no arms in the central province of Thanh Hoa is no exception. She has managed to do every daily task of normal folks with her feet.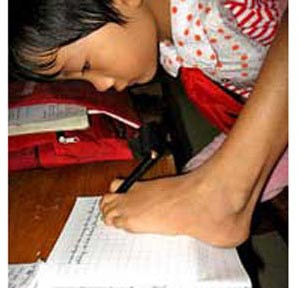 Le Thi Tham, the disabled girl with a deep passion for study and drawing
Le Thi Tham, now 9, was born in Thanh Hoa province's Dong Son district with no arms, a shock to both her parents. Her father was usually not home because of his work in construction, so Tham spent most of her early years with her mother, Tinh, who came to accept Tham's disability.

But by the time Tham was in nursery school, she had developed an exceptional talent at using her feet to play with toys, write and even draw.

As a passionate student, Tham dedicated all of her time and effort to perfecting her "handwriting".

Watching Tham tire herself with endless practice, there were times Tinh tried to persuade her to put down her studies but the Tham was not to be deterred. Her "footwriting" in fact bettered her classmates' handwriting and was lauded by teachers and classmates as well.

She paid a price. Sometimes sharp pains would run through her feet, she admitted.

Once in elementary school, Tham continued as a first-class student talented in math, Vietnamese, English and painting fine art. Her drawing skill took on ever more complicated themes, traffic, landscapes and her teachers.

Her works have been showcased in several drawing contests and she has recently won second place in a competition held by the Thanh Hoa Fine Arts Association.

Daily chores are no mean feat for Tham, yet she keeps house herself and even helps her mother with cooking and washing dishes.

According to friends, Tham has never slacked off in study. As Tham said, her only wish is to study more and become a teacher.

Tham's portrait in the Vietnam Women's Museum hangs as a reminder of the people's inner strength in the face of daunting obstructions.