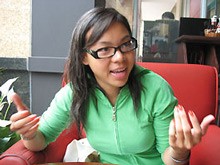 Louisa Huynh
Louisa Huynh, host of the "Talk Viet Nam" chat show on Channel VTV4, has been chosen as the Master of Ceremonies for the APEC Gala Dinner on November 18.
Huynh Thanh Thuan, to give her full Vietnamese name, was born in Seattle, Washington and graduated from New York University with a degree in media studies.
When she was on vacation in Viet Nam last year, she became the apple of Vietnam Television's eye and the most acclaimed English-speaking MC yet seen in this land.
The Gala Dinner at the National Convention Center will be hosted by President Nguyen Minh Triet and his wife and attended by 1000 delegates from the 21 APEC economies.
Pham Sanh Chau, who heads the APEC Secretariat's information office, chose Louisa after being a guest on her show.
Afterwards, she was invited to present a water puppet show on November 19 for the spouses of the APEC leaders, and will fulfill the same MC role at two seminars run by the Vietnam Chamber of Commerce and Industry.
"I feel a little bit tired but I will try to accomplish it", said Louisa, who is bound to be busy as all the APEC meetings will use English as the main language.