Reporter Le Huu Nam has released his latest book entitled Mat Ngu Rung Xanh (Green Forest Password) for young readers.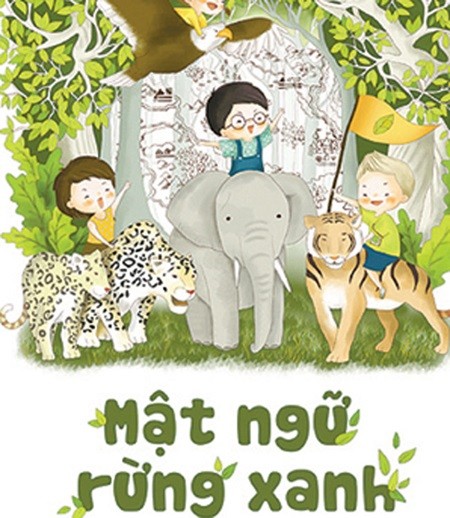 Book of hope: Cover of the book Green Forest Password by reporter Le Huu Nam.
The 300-page book tells the story of four friends and their fathers who team up as two different groups to protect wildlife and green forests.
Nam is a culture reporter, but also covers environment issues.
"I imagined that when my child sees wildlife such as rhinoceros, elephants and tigers, he would ask me where these friends are and if I could take him to visit them," Nam said.
"I would not know how to answer the question because, possibly, these animals would be killed by mankind. That realisation urged me to write a fictional story about little friends saving wild animals from this threat," he said at the book launch on Sunday in HCM City.
Growing up in the highlands helped Nam get close to nature. He nurtured his love for nature and tried to study more about wildlife.
The knowledge about the environment and short stories about forests and animals that he received and was told when he was small were useful for Nam for writing the Green Forest Password.
"The book describes a fierce battle, but has a happy ending," writer and translator Tran Tien Cao Dang said. "Just as many other fairytales, the book's ending is better than reality. Our children need such books."
Nam spent more than two months writing the Green Forest Password in the summer of 2013. It seemed to be like a battle for Nam because of his heart disease.
He had to go to hospital three times during the writing of the book.
Born in 1986 in Da Lat City in the Central Highland Province of Lam Dong, Nam moved to HCM City in 1998 to avoid the highland climate that was not good for his health.
"The book will make a good impact on little readers. The author's passionate style of telling the story will make them love wildlife," Hoang Thi Minh Hong, an environment activist, said.
"I see hope for our natural environment protection programmes."
It is the third book by Nam, following Hanh Trinh Tro Ve(Journey of Return), published in 2013, and Con Den Nhu Mot Phep Mau (Your Coming Likes a Magic) in 2014.